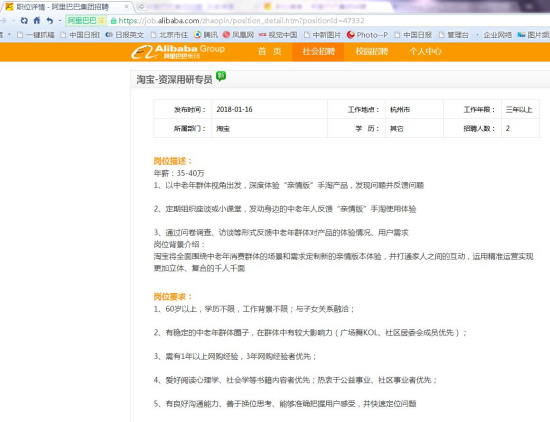 A screenshot of the ad on Alibaba's recruitment website, Jan 17, 2018. [Photo/chinadaily.com.cn]
Young techies take note: You are not the only one earning high salary. Alibaba plans to pay 350,000 yuan to 400,000 yuan ($54,466 to $62,247) annual salary to two employees aged above 60 to work for its e-commerce platform Taobao in Hangzhou, Zhejiang province.
According to a job ad on Tuesday, the internet giant wants to hire investigators to help Taobao collects users' experiences on its new customized shopping platform that will enhance interactions among family members.
Alibaba said an applicant should be a group influencer, such as a "key opinion leader" in a team of square dancers, or a member of neighborhood committee, should have more than 3-year online shopping experience, an interest in social entrepreneurship and local community causes, and reading books related to psychology and sociology would be a plus.
Apart from that they should be good listeners, should have an easy rapport with children, have stable groups of friends and have good communication skills.
The company has seen massive response and is now short listing candidates for interview.
Some young people said they would ask their parents to apply for the position.
"Wow! my retired parents may get a job with an annual salary of 350,000 yuan to 400,000 yuan," some young people commented.