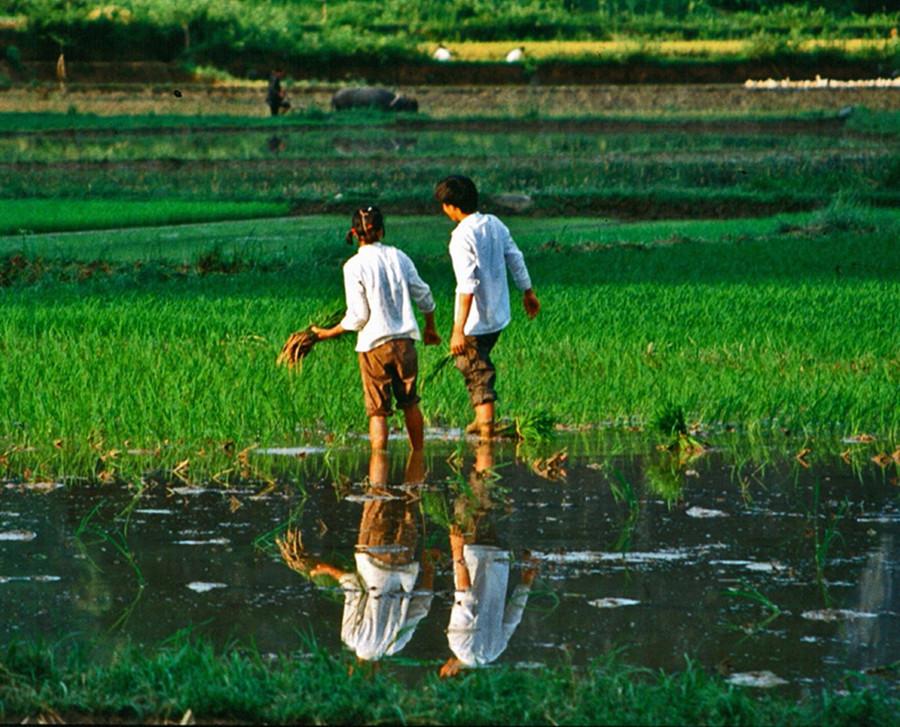 Early evening at a rice field near Yangshuo 1993. (Photo by Bruce Connolly/chinadaily.com.cn)
Arriving by boat in 1993 at Yangshuo's Shuidongmen Wharf, I was entering a very different world from Guilin, 85 kilometers back up the Li River. Guilin had developed what was for that time a highly organized tourism sector, receiving mostly international and domestic tourist groups. Ascending the stairs from the river, I felt I had stepped back in time — gone was the modernity and commercialism I had experienced earlier. Being in Yangshuo gave me the feeling I knew I was going to enjoy this town.
Walking along narrow Xijie, or West Street, hemmed in by jagged, often egg-shaped limestone peaks, two- or three-floor buildings looked as though they had been there for generations. Apart from ground level spaces opened up to accommodate cafes and shops selling T-shirts, there was very little modernity. There were no large hotels — indeed, there appeared a dearth of visitor information, though locals were happy to point out guesthouses. I kept wandering, looking around, wanting to find a place that would suit me. I needed somewhere reasonably quiet but easily accessible to the Old Town. An elderly lady approached and led me through several narrow alleys to a peaceful inn. Set around a small lake-garden, I checked into a single room with great views of the surrounding landscape. It was perfect, and they even had bicycles for hire!
Prev Button
Next Button