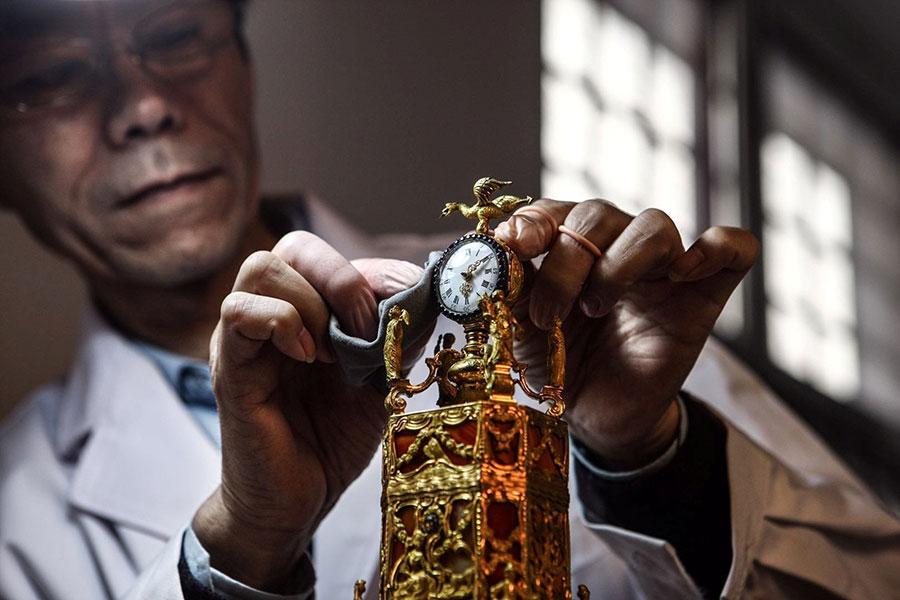 Wang works on a timepiece. (Photo provided to China Daily)
After the three-episode TV documentary Masters in the Forbidden City went on air in 2016, Wang Jin, an antique clock restorer at the Palace Museum in Beijing, became a celebrity.
Many visitors to the museum have since asked to take selfies with him.
And now, a documentary film has recorded his recent tour of Switzerland.
Huanxing Shijiande Jiyi (Reviving the Memory of Timepieces), which is directed by female filmmaker Li Shaohong, was released last week on Tencent, one of China's major streaming sites.
Wang was only one of the "masters" in the previous TV production, but he is indisputably in the lead role this time.
The online documentary, coproduced by the Palace Museum and Swiss watchmaking company Cartier, records the collaboration between artisans from China and Switzerland as they set out to restore six antique timepiece movements from the museum in the Chinese capital.
Prev Button
Next Button