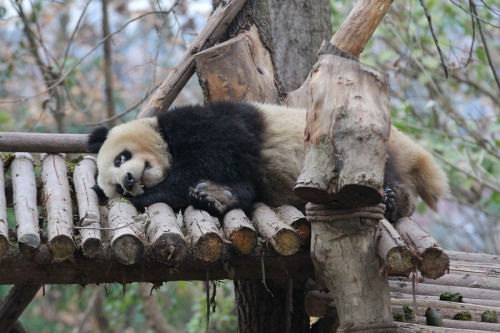 Xiao Ya, a panda that recently contracted an eye disease, rests at Chengdu Research Base of Giant Panda Breeding in Sichuan province on Thursday. (Photo by HU DATIAN/FOR CHINA DAILY)
Veterinarians at the Chengdu Research Base of Giant Panda Breeding are investigating "whitening" of their charges' eye-rims in response to panda fans' worries over mite infections.
The matter has been a worry for more than a year, according to Wu Kongju with the base. Tests have been carried out for mite and fungal infections and for vitamin and trace element levels, but no precise causes have been found.
The pandas have no other symptoms, such as itches, other than loss of hair on eye-rims, and act normally, Wu said. "They eat well and grow well."
Wu said the base has measures to prevent and cure parasites, including mites. All pandas older than four months are regularly prophylactics to prevent parasites.
Parasite infection is only one of the possible reasons behind hair loss, but it takes much longer to determine causes in the case of giant pandas due to the rarity of the species, according to Wu.
As the investigation continues, the base welcomes public inquiries about the pandas' situation.