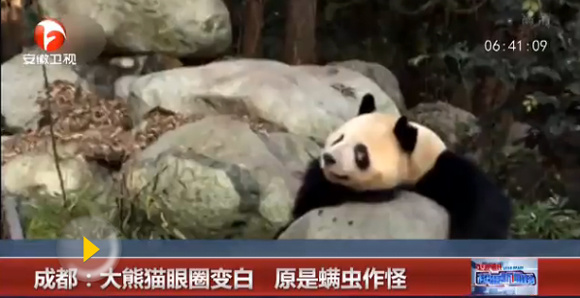 A panda in the Chengdu Research Base of Giant Panda Breeding. (Photo/Video screenshot)
(ECNS) -- The Chengdu Research Base of Giant Panda Breeding has denied accusations that it abused endangered pandas and used them in a profiteering photography service.
The base found itself the target of unwanted attention after online articles made a range of accusations. At the center of inquiries is panda Menglan, who is said to have suffered abuse and chronic osteomyelitis without receiving timely treatment.
In a statement on Weibo, the base said the majority of panda supporters have made valuable suggestions to improve the welfare of the animals, but there are radical individuals and organizations behind the smear campaign to spread rumors.
The base said it had already apologized to panda fans who didn't receive a response from the base in a timely manner. In addition, utmost efforts had been made to address Menglan's health concerns when they were identified in January last year, and treatment progress was disclosed on May 23 and July 7.
In regards to another panda in question, Mengmeng, the base said the animal had not been adversely affected by its temporary relocation, which was caused by a renovation project.
The statement also said rumors that visitors had been allowed to hug a panda at a charge of 1,000 yuan were a total fabrication. Only keepers, veterinarians, researchers and certified volunteers can interact with pandas at close distance, according to the base.
The base added that it had attempted to discover the cause of an eye irritation that affected some of the pandas for more than a year. The base said it is now working with other experts to carry out various tests.
The base explained that it chose to close the comment function on Weibo in Nov. 2017 after receiving many inappropriate messages personally attacking researchers.