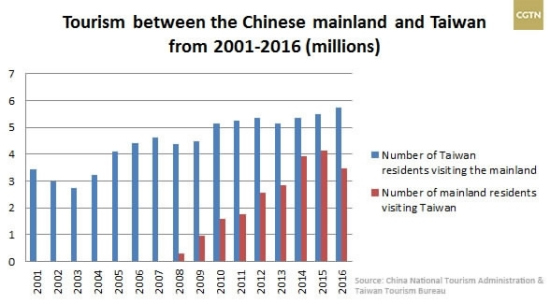 CGTN Photo
The Taiwan Affairs Office of China's State Council held on Wednesday its first press conference in 2018, reviewing the achievements in cross-Strait affairs in the past year and stressing the importance of closer cooperation and communication between Taiwan and the Chinese mainland in the new era.
This year marks the 30th anniversary of opening of cross-Strait exchanges and people-to-people communication across the Taiwan Strait.
Over the three decades, cross-Strait economic, cultural and social exchanges have progressed, laying the foundation for the relaxation, improvement and peaceful development of cross-Strait relations.
No violation in opening of M503 flight route
China's Civil Aviation Administration announced on January 2 that civilian planes heading north would be allowed to use M503 ? a route previously reserved for southbound planes only ? in a bid to alleviate airspace congestion in southeastern China.
But Taiwan's civil-aviation authority lodged an official complaint with Beijing and the International Civil Aviation Organization (ICAO), claiming the move "affects aviation safety".
Spokesman for the State Council's Taiwan Affairs Office, Ma Xiaoguang, said the M503 flight route poses no such threats and is within the Shanghai Flight Information Region. The route is necessary for linking passageways, he noted, adding that air control authorities will strengthen communication with neighboring areas to ensure flight safety.
The new route is designed to relieve traffic pressure caused by increased flights around Shanghai and the Pearl River Delta in south China.
Ma said he hoped the residents of Taiwan can understand the need for such an important route.
"In recent years, scheduled flights for the Strait's west coast airspace have quickly increased, and the delays are becoming more critical. Using the northbound M503 and related routes will effectively ease the existing air route's traffic pressure," China's civil aviation authority said in a statement when announcing the new routes that planes "will strictly follow the announced flight path".
Ma said the mainland's civil aviation agency communicated in a clear way with its counterpart in Taiwan.
"This is within Shanghai Flight Information Region, and there are no unilateral launch issues. Claims of violations of consensus reached by the two sides in 2015 are completely inconsistent with the facts," he added.
Ma said the opening of the northbound route and the connecting line has allowed an average of 27 flights per day, which demonstrates the safety and reliability of the route.
There is no problem that affects Taiwan's flight safety, he said.
The northbound M503 flight route, launched on January 4 over airspace in China's southeastern region, is crucial to cross-Strait communication, Ma said.