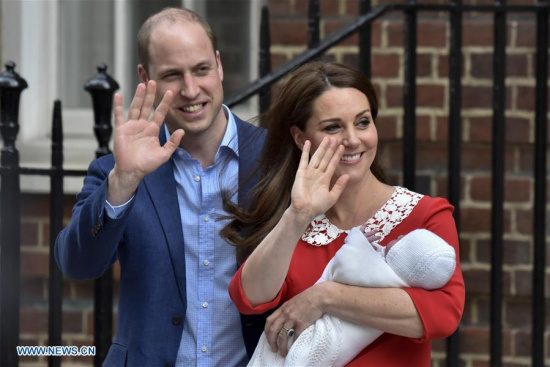 Prince William (L), Duke of Cambridge, and his wife Catherine, Duchess of Cambridge, present their newborn son outside St. Mary's Hospital in London, Britain, on April 23, 2018. Catherine on Monday gave birth to a boy, her third child, who is the fifth in line to the British throne. (Xinhua/Stephen Chung)
The infant son of the Duke and Duchess of Cambridge has been named Louis Arthur Charles, Kensington Palace announced Friday.
In a statement, Kensington Palace said, "The Duke and Duchess of Cambridge are delighted to announce that they have named their son Louis Arthur Charles. The baby will be known as His Royal Highness Prince Louis of Cambridge."
William and Kate's third child was born Monday, a brother to nearly five-year-old Prince George and Princess Charlotte, who is almost three.
The name, which is clearly in honour of Lord Louis Mountbatten, is a nod to both Prince Philip and Prince Charles, who regarded Earl Mountbatten as a great mentor, the war hero who was killed by an Irish Republican Army bomb in 1979.
Louis is fifth in line to the throne after his grandfather Prince Charles, his father and his older siblings.
The name pays tribute twice over to Prince Charles, who has Arthur as one of his middle names.