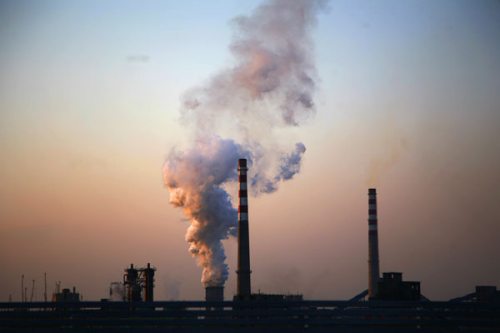 Smoke billows from a factory in Dezhou, Shandong Province. (Photo/China Daily)
The Ministry of Ecology and Environment will carry out regular inspections to ensure the second national census on sources of pollution, which is due to wrap up by the end of the year, is carried out properly.
WeChat groups will be created both on the national and provincial levels to facilitate work, it said. Pilot surveys should be concluded by the end of June, and the formal census will be conducted from August to November. Results will be released in 2019.
The census aims to map out the country's sources of pollution, and is essential to economic and environmental policy-making, the central government said previously.
About 9 million pollution sources around the country are expected to be surveyed. The last major survey was done 10 years ago.
According to the reshuffled Ministry of Ecology and Environment, its budget rose by more than 70 percent over its predecessor in the last year, reaching almost 12.2 billion yuan ($1.9 billion).
The budget for pollution control has more than doubled to 500 million yuan, and more than 70 percent will be used for the latest national census, the ministry said.
Discovering sources of pollution is getting increasingly challenging as the crackdown on pollution has intensified in the last few years, and that could influence the census, said Wang Jing, who works with China Biodiversity Conservation and Green Development Foundation, a Chinese NGO devoted to environmental protection.
"During the past three years, we found that some factories dumped industrial waste in remote areas like deserts, or in places like pig farms, which makes it hard to spot. However it still has huge ecological consequences," she said.
Ma Jun, director of the Institute for Public and Environmental Affairs, said the census is crucial as some businesses still lack credibility when it comes to pollution. "Local governments should fully realize its importance and cooperate to get a full picture of the country's pollution sources," he said.