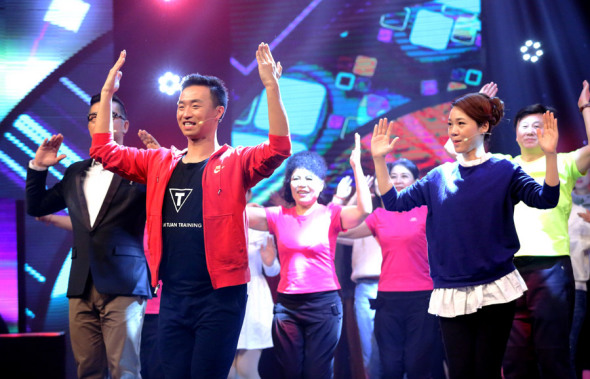 Wang Guangcheng, nicknamed "China's Square Dancing Prince", leads a dance troupe in a televised entertainment show. (Photo by KANG ZHENG/FOR CHINA DAILY)
Wang Guangcheng, known as "China's Square Dancing Prince", runs a gym in Beijing renowned for combining oldschool dance with modern styles such as Zumba and hip hop.
Though he earned his nickname in 2010 after leading more than 700 dancers at the Zumba Instructor Convention in the United States, Wang was coy, almost embarrassed, about his achievement.
Broadcast live by local TV networks, footage of Wang and the dancers was viewed by millions of people. He was given the nickname by an anonymous user of one of China's most popular video website portals.
Now, square dancing is one of the most popular activities in China, but in 2010 it was considered a pastime for the middle-aged and people in their twilight years. Wang was only 24 at the time.
"Like many young people, I used to associate square dancing and dancers with loud, outdated songs and silly, synchronized moves. But I bet most of the people who have that perception have never tried the dance or interacted with the dancers like I have," said the native of Nanjing, capital of Jiangsu province.
The former national dance competition champion has come to terms with his passion. Now, 32, he owns a fitness studio in the capital that employs about 20 people, half of whom are instructors. The gym is renowned for its unique workouts which combine Chinese folk dances with moves from other styles such as salsa.
Every year, Wang creates about 200 choreographed dances on average, and he also regularly appears as a judge, consultant and lead dancer in competitions and shows around the country.
In 2011, he was approached by Phoenix Legend, a popular musical duo, who asked him to become their choreographer.
In 2015, following the central government's call for improvements in public health, the General Administration of Sport commissioned Wang to create 12 national-standard square dance routines to further popularize the activity.
"The trick to designing square dances is to make them easy for even those who have never worked out, but at the same time infuse some artistic moves to make it a fun and effective exercise," he said.
The only son of a photographer father and a teacher mother, Wang started learning ballet at age 3. After spending six years as a performer at a military school in Nanjing, he decided to promote dancing as a form of exercise by moonlighting at gyms.
Asked if it is a challenge to get Chinese grannies-often regarded as unreasonable by young people-to follow his instructions, Wang said they have never given him any problems.
"Every granny is a mother, just like our own mothers. A little bunny lives inside their hearts. If you unlock their hearts with the right key, they are just lovely, cheerful people. Dancing is the key I use to unlock their hearts," he said.