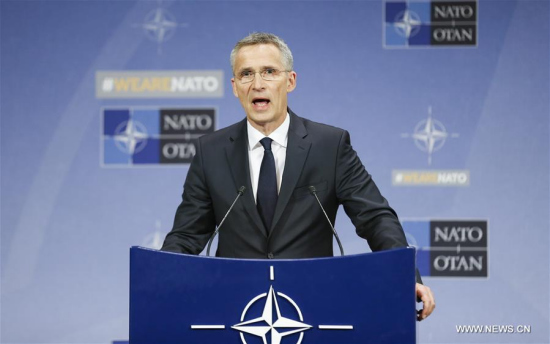 NATO Secretary General Jens Stoltenberg addresses a press conference after NATO foreign ministers' meeting at NATO headquarters in Brussels, Belgium, on April 27, 2018. (Xinhua/Ye Pingfan)
NATO foreign ministers agreed that NATO's dual-track policy of strong deterrence and defense combined with meaningful dialogue with Russia "is the right one", said Secretary General Jens Stoltenberg Friday.
Speaking at the press conference following their meeting, Stoltenberg said ministers discussed the implications of Russia's foreign and defense policies and NATO's relations with Russia.
"We need to further strengthen our resilience. At the same time, NATO remains committed to dialogue with Russia," he said.
Stoltenberg added the two sides continue to work towards the next meeting of the NATO-Russia Council.
Ministers also made decisions in preparations to launch a new training mission in Iraq, due to be launched at the summit in July.
The mission will include several hundred personnel, who will train Iraqi instructors and develop Iraqi military schools.