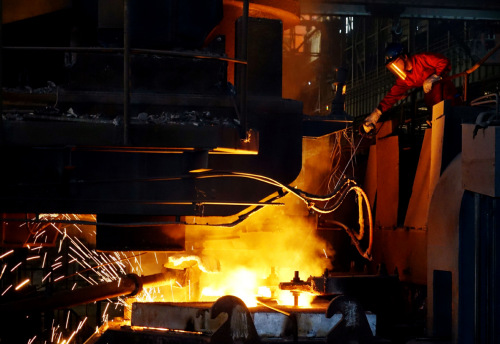 A worker tests the temperature of molten steel at a steel plant in Dalian, Liaoning Province. (Photo by Liu Debin/for China Daily)
NBS statistician: Sector is on track to see continued improvement
China's industrial sector continued to see steady revenue growth in March, with sustained structural improvements and continued economic growth momentum, according to analysts.
Profits of industrial companies reached 1.55 trillion yuan ($245 billion) in the first three months of the year, up by 11.6 percent from the same period last year, according to data released by the National Bureau of Statistics on Friday.
The data gauge large-scale companies with annual turnover of more than 20 million yuan.
"The overall industrial sector is on track to see continued improvements, reflected by steady profit growth and lower leverage ratios," wrote NBS statistician He Ping in a note.
However, in March alone, the profit growth of industrial companies was 13 percentage points lower compared to the previous two months, data showed.
He attributed slower growth in March to seasonal factors such as the later Lunar New Year holiday this year.
Weaker producer price inflation and higher financing costs also played a role in driving down the growth pace, He said.
The liability to asset ratio of industrial companies fell slightly in the first three months compared to the same period last year, with some deleveraging achievements found in lower leverage ratios of State-owned enterprises, data showed.
The liability to asset ratio of industrial firms registered 56.4 percent in March, down 0.8 percentage points year-on-year.
"The government effort to curb risks from mounting debt has appeared to bear fruit, especially in the most indebted State-owned companies," said Gao Ming, an analyst with China Merchants Bank.
He said the slightly higher liability to asset ratio of private companies, which went up by 0.5 percentage points in March, is in line with stronger growth of private investment.
Looking ahead, the central government has noticed cyclical factors that may dent future growth, according to Gao.
The meeting of the Political Bureau of the Communist Party of China Central Committee held earlier this week highlighted the need to expand domestic demand, pointing to future steps to hedge cyclical downward pressure, according to Gao.