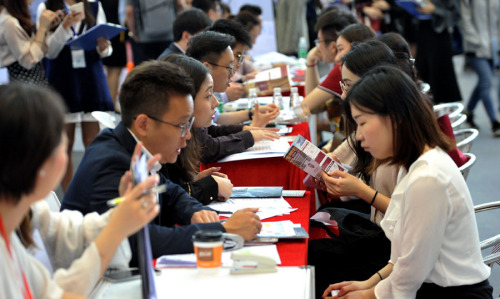 Returnees chat with prospective employers at a job fair in Shenzhen, Guangdong Province. (Photo by Xuan Hui/For China Daily)
As a record number of graduates prepare to leave China's universities, many returnees are struggling to make a mark.
A degree from a university overseas was once regarded as the calling card for better employment opportunities. However, graduates returning to China are now realizing that studying abroad no longer guarantees a well-paid job.
Many are disappointed with the relatively low salaries and less competitive positions they are being offered as a result of the rising numbers of returnees and a surge in graduates from domestic institutions in recent years.
The bad news for them is that competition is set to become even more cutthroat because China's universities are expected to produce a record 8.2 million graduates this year, according to the Ministry of Education.
A recent report released by the Center for China and Globalization, a think tank in Beijing, shows that about 45 percent of graduate returnees are earning less than 6,000 yuan ($945) a month, while 23 percent make between 6,000 and 8,000 yuan.
The salaries are chicken feed compared with the high cost of overseas study, which has risen to an average 300,000 yuan per annum as foreign universities look to earn extra revenue from international students, the report said.
However, experts believe overseas education should not be viewed purely from the perspective of return on investment, because the experience can help students develop valuable, nonacademic skills.
Alternative approach
When Guo Shuai, 26, saw the Disney movie High School Musical as a middle school student, he became determined to study in the United States.
Unlike the high-pressure, test-oriented school system with which he was familiar, the movie presented an alternative: a carefree atmosphere where students were independent and free to speak their minds, and enjoyed a wide range of social activities.
So, when he graduated from Zhengzhou University in Henan province in June 2015, Guo did not hesitate to move to Fort Hays State University in Kansas to study for a master's in business administration.
When he arrived, though, his rosy image of the US faded a little; the schedule at the university was much more intense than he had expected, and he found it difficult to blend in and make friends. Moreover, in addition to mid-term and final exams, set papers and tests were scheduled throughout the semester.
"I was almost fully occupied with the heavy workload at school, so I did not have much time to apply for internships," he said.
When he returned to China, Guo found that his overseas degree did not make him stand out in the competitive job market.
"Since I had not applied for internships in the United States, the only thing that made me valuable to employers was my language skills."
He spent more than three months unemployed before securing a job as a translator at a financial company in Shanghai, earning about 8,000 yuan a month.
Jiang Yuqiong, 25, had also harbored a dream of studying abroad since childhood, looking to broaden her horizons and see the world. She also hoped that an overseas degree would give her an edge in the domestic job market.
However, when she finished a master's in accounting and finance at Durham University in the United Kingdom last year, she discovered that her qualification actually made her less competitive than graduates from schools in China.
She applied to the auditing departments at the "Big Four" accountancy firms-KPMG, PricewaterhouseCoopers, Deloitte and Ernst & Young-but didn't receive any replies, let alone job offers.
"In my opinion, the big four prefer students with bachelor's degrees for those jobs because they can pay them less," she said.
After spending the "longest" four months doubting her abilities and the value of her education, Jiang finally landed a job as a consultant at a multinational management company in Shanghai, earning more than 10,000 yuan a month.