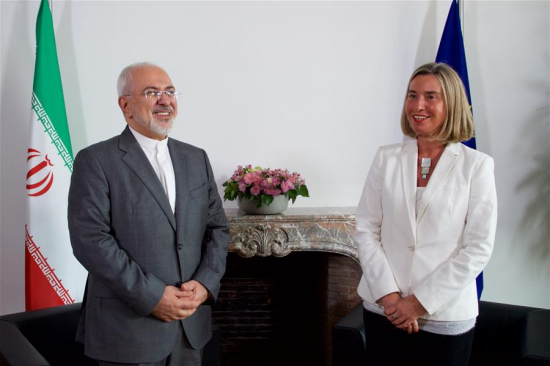 European Union (EU) foreign policy chief Federica Mogherini (R) meets with Iranian Foreign Minister Mohammad Javad Zarif in Brussels, Belgium, May 15, 2018. (Xinhua/European Union)
European top diplomats on Tuesday agreed to follow through the landmark Iran nuclear deal despite U.S. President Donald Trump's decision to withdraw last week, EU foreign policy chief Federica Mogherini told reporters on Tuesday.
To this end, the EU will launch intensive discussion at all levels with Iran in next few weeks, Mogherini said at a press conference following a meeting with foreign ministers of Britain, Germany, France and Iran.
The discussion will focus on, among others, how to maintain economic relations and effective banking transactions with Iran in the context of renewed U.S sanctions, according to Mogherini.
"We reaffirm our resolve to continue to implement the nuclear deal in all its parts, in good faith, and in a constructive atmosphere," said Mogherini.
"We are determined to ensure that Iran Deal stays in place. We know it's a difficult task but we are determined to do that," Mogherini noted, adding "we started to work to put in place measures that help ensure that this happens."
She proclaimed that she will brief leaders of EU members states on Wednesday in Sofia, Bulgaria, which is about to host the EU-Western Balkan summit.
When leaving the meeting, Iranian Foreign Minister Mohammad Javad Zarif echoed Mogherini, saying "it's the start of the process, a lot depends on what we do in the next few weeks. I believe it's a good start."
"We need to receive those guarantees, and we will see how best we will move over," Zarif told reporters.
Zarif is in Brussels on the final leg of a whirlwind diplomatic tour to save the 2015 nuclear deal after the recent U.S. withdrawal from the pact.
Trump declared last week that the United States would withdraw from the deal, claiming that it had failed to prevent Iran from developing nuclear weapons or supporting terrorism in the region.
U.S. Treasury Secretary Steven Mnuchin elaborated in an announcement that "sanctions will be reimposed subject to certain 90-day and 180-day wind-down periods."
Much to Europe's displeasure, foreign companies doing business with Iran are also at the crosshairs of the U.S. sanctions.
In response to the looming U.S. sanctions, British Foreign Secretary Boris Johnson told reporters upon his arrival at the meeting: "that doesn't mean there aren't some things we can do."
"We will be looking at all the ways that we can come up with to protect the legitimate UK and European business who may want to trade with Iran, who do want to trade, and in indeed who have great plans to do that," he said.
The landmark agreement was signed in July 2015 by Iran and the five permanent members of the United Nations Security Council -- Britain, China, France, Russia and the United States -- plus the European Union (EU) and Germany.
Under the deal, Iran agreed to freeze its nuclear programs in return for the lifting of most international sanctions.
According to the International Atomic Energy Agency (IAEA) in Vienna, Iran has so far complied with all of the conditions established under the deal.