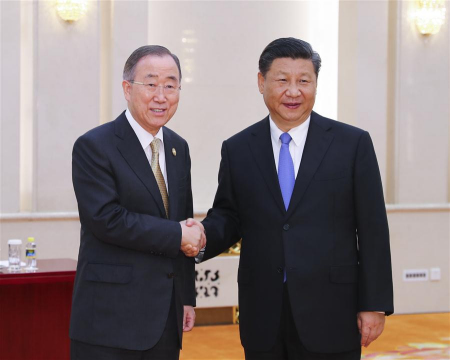 Chinese President Xi Jinping (R) meets with Chairman of the Boao Forum for Asia Ban Ki-moon in Beijing, capital of China, May 15, 2018. (Xinhua/Xie Huanchi)
China's door of opening up will open even wider, Chinese President Xi Jinping said during his meeting with Ban Ki-moon, chairman of the Boao Forum for Asia (BFA), in Beijing on Tuesday.
The BFA has been expanding its scale and influence since it was established 17 years ago, and has played a unique role in building consensus, enhancing regional cooperation, boosting common development, and resolving Asian and global problems.
"The mission and purpose of the Forum is to promote Asian economic integration and to achieve mutual beneficial and win-win results," President Xi said.
Xi also said that China firmly supports multilateralism, maintaining the multilateral trading system and building an open world economy.
"At the annual meeting of the Forum this year, I announced a new round of initiatives to deepen opening-up. These initiatives will soon be landing, bringing greater opportunities for development in Asia and the world," he noted.
Xi also told Ban that China will continue to support the BFA and improve its influence.
Ban Ki-moon thanked the Chinese government for its strong support toward the BFA and stressed that the Forum will promote Asia to remain open and innovative with China's Belt and Road Initiative.
"In the long run, the Forum should also be an important platform to promote the harmonious coexistence of the people of the world and make efforts to build a community with a shared future for mankind," Ban Ki-moon added.