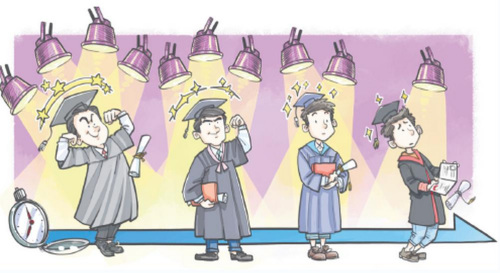 (Photo by Cai Meng/China Daily)
Heavy cost
Neither Guo nor Jiang regrets studying overseas, despite the heavy financial burden-Guo paid 400,000 yuan for his two-year program, while Jiang's 12 months of study cost 300,000 yuan-because they hoped the experience would help them earn decent salaries in their first jobs.
However, for Liu Zeyang, overseas study came at a much higher cost.
In 2013, Liu quit his studies at Wuhan University during his sophomore year, because he felt the school was not offering him the quality of education he had expected.
He persuaded his parents to send him to the US to attend a pre-university language school. Following that, he moved to the University of Maryland where he majored in finance, a field his family thought would help him secure a good job.
To help fund his studies, his parents sold a property they owned and gave him more than 1 million yuan.
"Knowing that my parents had sold the property, my feelings were complicated; I told myself that I must study hard to repay their sacrifice," the 24-year-old said.
However, he was not interested in finance and found the course too demanding and stressful.
"After three semesters at the university, I applied to postpone my graduation and returned to Beijing last year."
After he returned, Liu worked for two startups, but he quit his jobs to start a business selling healthy meals to people who want to lose weight.
A growing trend
Xiong Bingqi, deputy director of the 21st Century Education Research Institute in Beijing, said China's economic growth and rising household incomes mean more parents are willing to send their children overseas to study.
"Going abroad to study is no longer just for the elite," he said.
According to a survey of 6,217 people who plan to study overseas, conducted by Vision Overseas Consulting Co and Kantar Millward Brown, the students' main objectives are to broaden their horizons and gain a wide range of experience.
The survey found that 73 percent of respondents plan to return to China after graduation, while 40 percent simply want to enhance their resumes.
Ministry of Education data show that in 2007, only 44,000 people returned to China after studying overseas, but last year, the number had risen to 480,900.
However, the number of people choosing to study abroad during the same period only rose from 144,000 to 608,400, according to the ministry.
Shi Yan, of the Chivast Education International consultancy in Beijing, said more people are returning to China because they are finding it difficult to land jobs overseas and the domestic employment market is more appealing.
However, she added that one of the biggest obstacles to securing a job is that they miss the prime job-seeking season.
"In China, the job-seeking season for graduates starts in October or November, which is when most employers start accepting resumes and doing interviews," she said.
"However, most Chinese students studying overseas will only graduate and be ready to apply for jobs in May."
Zhao Hongxue, a senior human resources expert at Huicai International Management Consulting in Beijing, said finding a job has not been easy in recent years because of the rising number of students graduating from domestic universities.
The deeper talent pool means businesses are now paying more attention to the personalities and abilities of prospective employees, regardless of academic status or family background, and irrespective of whether they are domestic students, graduates returning from overseas or expats, she said.
However, overseas study still provides returnees with one advantage, according to Zhao-their experience tends to make them more independent and equips them with a global mindset and better communication skills, which are all important for future promotion opportunities.