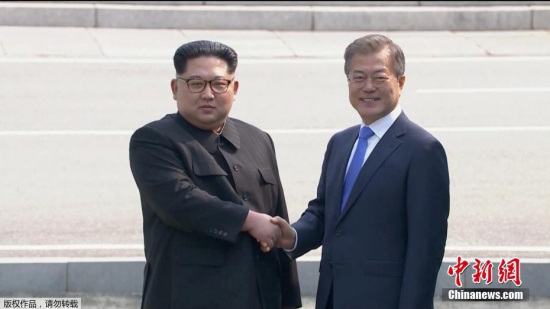 North Korean leader Kim Jong Un (L) shakes hands with South Korean President Moon Jae-in at the inter-Korean summit at the truce village of Panmunjom, in this still frame taken from video, South Korea April 27, 2018. (Photo/Agencies)
South Korean President Moon Jae-in greeted Kim Jong Un, top leader of the Democratic People's Republic of Korea (DPRK), on Friday morning after Kim walked across the military demarcation line (MDL) dividing the Korean Peninsula.
Moon and Kim shook hands standing on the South Korean side and the DPRK side, respectively, at Panmunjom, which is divided only by a low cement slab sitting in the middle of the border village.
After Kim walked across the MDL into the South Korean side, Kim invited Moon to cross the border briefly into the DPRK side with their hands holding together.
They returned soon to the South Korean territory still hand in hand, marking a historic moment for the summit.
Kim became the first DPRK leader to set foot on South Korean soil since the end of the 1950-53 Korean War.
The two leaders were escorted along a red carpet by a traditional South Korean honor guard to a square located between the Freedom House and the Peace House, a venue for formal talks between the two leaders.
The leaders inspected the honor guard, composed of service members of the South Korean army, navy and air force, as part of the official welcoming ceremony.
After reviewing the honor guard, Moon and Kim greeted the official delegates from both sides accompanying them.
Kim walked inside the Peace House to sign a guestbook and take a commemorative photo with Moon on the first floor. They chatted with smiles in the reception room before launching formal talks on the second floor at 10:30 a.m. local time (0130 GMT).