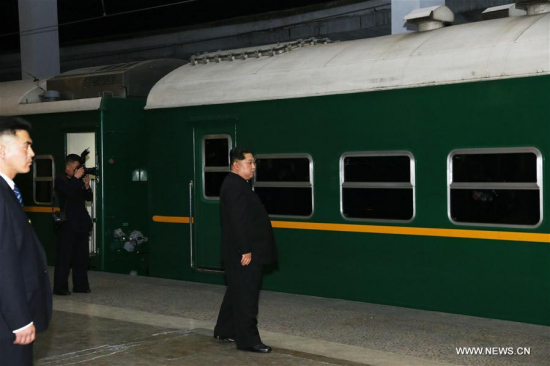 Kim Jong Un (R), top leader of the Democratic People's Republic of Korea (DPRK), watches the train leaving the station in Pyongyang, the DPRK, on April 25, 2018. (Xinhua/Cheng Dayu)
A train carrying two survivors and the remains of Chinese citizens killed in a road traffic accident in the Democratic People's Republic of Korea (DPRK) last Sunday, arrived in Shenyang, the capital of Liaoning Province, at 9 a.m. Thursday, a Chinese Foreign Ministry spokesperson said.
Kim Jong Un, top leader of the DPRK, went to the station to see off the train, which left Pyongyang Wednesday night, and once again expressed his condolences to the victims and their families, spokesperson Hua Chunying told a routine press conference Thursday afternoon.
Kim also boarded the train to see the injured, Hua said.
Several senior government and party officials of the DPRK were on board. Chinese Ambassador to the DPRK Li Jinjun, a team consisting of Chinese Embassy staff and diplomatic workers of the Chinese Foreign Ministry, as well as medical specialists were also on the train.
Kim and other leaders of the DPRK sent messages of condolences to their Chinese counterparts Wednesday.
A tourist bus fell from a bridge in North Hwanghae Province of the DPRK at around 6 p.m. last Sunday. The victims included 34 Chinese -- 32 dead and two seriously injured.
Gao Xiaobing, vice minister of Civil Affairs, received the train in Shenyang Thursday morning, said Hua. China will continue to provide help to the families of the victims for handling the aftermath.