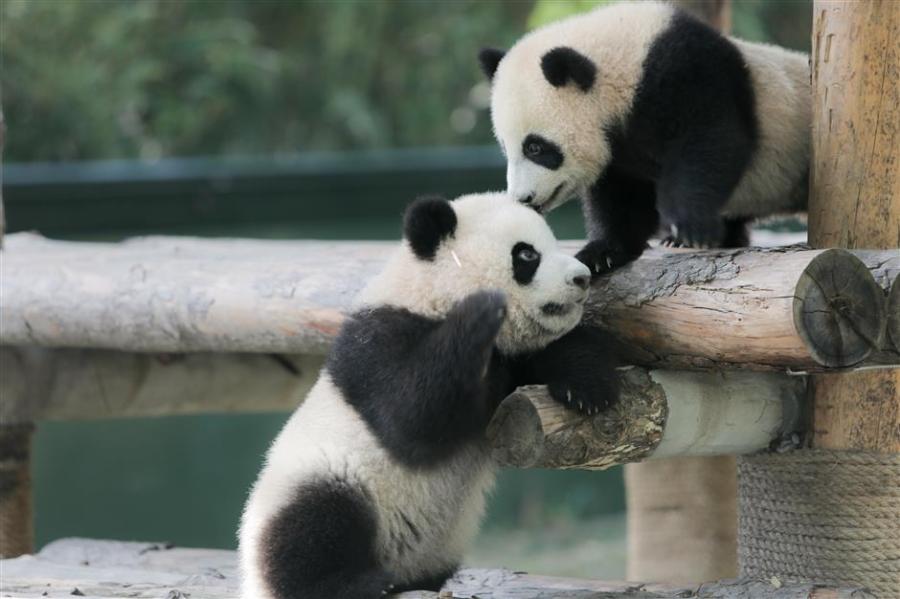 Xue Bao (left) and Qian Jin pose at the Shanghai Wild Animal Park. The names of the 6-month-old giant pandas were announced yesterday. (Photo/Shine.cn)
Two 6-month-old giant pandas born at the Shanghai Wild Animal Park finally have names for themselves.
Xue Bao was the name given to the male giant panda cub, suggesting pure and precious — Xue means snow and Bao is baby in Chinese. It also suggests good wishes for fertility.
Qian Jin is homophonic for "apple of the eye" in Chinese and is usually given to a daughter. Qian means lush growth of trees and grass. It signifies vitality, modesty, freshness, elegance and beauty, the park said yesterday.
The name also reflects the people's affection for the female giant panda.
Both the names carry one character from their mothers' names — Si Xue and Qian Qian.
The names were picked after a public vote. More than 5,000 names were submitted by people online. Out of that, 20 names were picked before deciding on the two names.
Xue Bao was born on October 4 last year, and Qian Jin six days later. Both of them are in good health, the park said.
Xue Bao weighed 171.8 grams three days after birth and opened his eyes 40 days later. He started crawling on the 115th day, and now weighs 19.5 kilograms.
Qian Jin weighed 168.5 grams three days after birth. She opened her eyes on the 50th day and started crawling on the 112th day. She weighs 16.9kg.
With Xue Bao and Qian Jin, the number of giant pandas born in the park is seven.
Xue Bao is active and extroverted, its handler said. He likes to explore and has adapted well to the environment.
Qian Jin is quiet — but smart, and keen to try out new things. Both of them are in the most active period of their growth. The zookeepers often take the cubs outside for walks, attracting visitors.
The park has made a video about them, which is screened at the giant panda pavilion.
The park was designated a giant panda reserve in 2016. A pigeon pair — a male and a female — was born in the park in October the same year.
Prev Button
Next Button