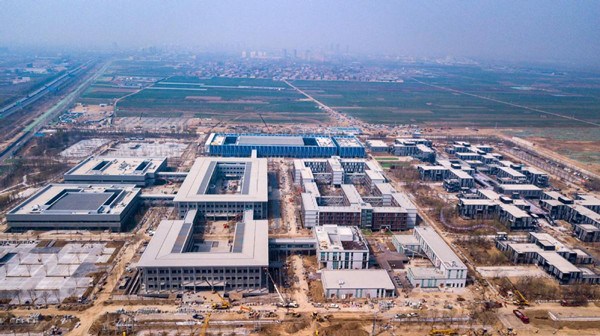 An aerial view of the Xiongan New Area Citizen Service Center, the first major project being built in the area. (Photo by Chen Wei/chinadaily.com.cn)
Chinese authorities have approved the master plan for the Xiongan New Area, marking a crucial step forward in the planning and construction of the new economic zone, which they say will be of "lasting importance for the millennium to come".
According to a document released on Friday by the Central Committee of the Communist Party of China and the State Council, the construction of Xiongan will begin at the juncture of Rongcheng and Anxin counties in Hebei province, covering an area of around 100 square kilometers. The next stage of construction will take up 200 sq km.
Located around 100 kilometers southwest of downtown Beijing, the Xiongan New Area was set up in April last year to help spare Beijing of functions unrelated to its status as the nation's capital.
The plan aims to build the area as a low-carbon, intelligent and globally influential city where people and nature exist in harmony.
The newly released document says Xiongan will be built into a world-leading digital area, and intelligent infrastructure should be anticipated during planning to achieve smart management.
The document also emphasizes green development of the area to build it as a low-carbon city where forest coverage will be 40 percent of the total area.
In addition, innovation will be the fundamental driver. High-end, high-tech industries will be supported, and favorable policies will be put in place to bring innovative elements, including talent, to the area.
Zhang Dayu, vice-president of Beijing University of Civil Engineering and Architecture, says, "The document draws a blueprint in a well-rounded and scientific way and shows that development of the new area is part of the country's bigger plan to promote the overall development of the Beijing-Tianjin-Hebei region."