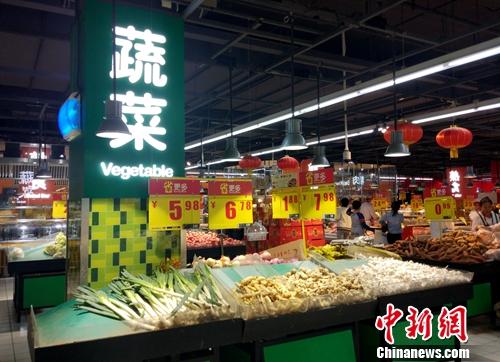 Vegetables are sold in a supermarket. (Photo/China News Service)
(ECNS)-- Despite some fluctuations in February, China's consumer price index (CPI) growth will remain moderate and generally stable in the coming months, analysts said.
The CPI rose 2.1 percent year-on-year in March, the National Bureau of Statistics said, down 0.8 percentage points from 2.9 percent the previous month.
Food prices rose 2.1 percent, down 2.3 percentage points from February. As the weather turns warmer and agricultural supplies achieve sufficient levels, price growth will stay at a moderate level, analysts said.
The average CPI in the first three months of this year rose 2.1 percent, data showed.
Cao Heping, a professor with Peking University, said that potential trade conflicts between China and the U.S. will not have much influence on commodity prices and expects the full-year CPI to be around 2.5 percent in 2018.
Farm product prices remained stable with a slight decline in the first few days in April and pork prices didn't rise even during Qingming Festival, which indicates the trend of supply outstripping demand didn't change. Vegetable prices continued to drop due to sufficient supply.