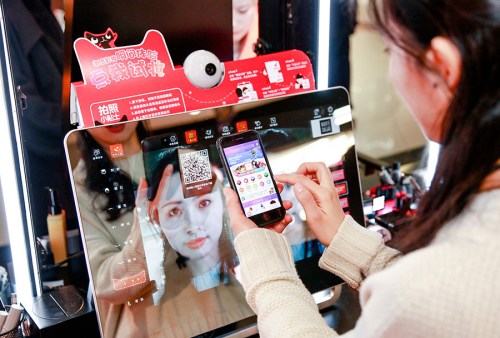 A customer uses a mobile app to select cosmetics for trial at a Tmall pop-up store in a shopping mall in Shanghai. (Photo provided to China Daily)
L'Oreal, others teaming up with Tmall as online, offline sales begin to merge
For some of the top-notch beauty brands, China is playing a vital part in reshaping the perception of the role of online sales.
Once fearful that the internet's mass access could damage the exclusivity of brands, fashion houses are now racing to embrace digital, thereby pampering demanding customers from the world's largest consumer market.
The pivot to digital makes sense: Online sales are expected to drive future growth in the luxury goods market, making up 25 percent of the market by 2025 from an estimated 9 percent last year, according to a 2017 report from Bain & Co.
Such projections serve as a wake-up call to high-end cosmetic firms that have long relied on partners such as department stores-and their own boutiques-to sell products.
Lancome, a premium brand under French cosmetics firm L'Oreal Group, is riding on a trend in which the lines between offline and online sales are being increasingly blurred in China.
L'Oreal will team up with Tmall to install 50 augmented realty-powered "Magic Mir-rors" across its physical stores in China, which allows users to virtually try on new hairstyles, lipsticks, eye shadow and blush.
And that's just one example. E-commerce is disrupting the beauty sector in China and companies are riding the wave of the change, according to Hagen Wulferth, chief digital officer of L'Oreal China.
"Digital is at the heart of everything in China," Wulferth said. "This is evident from the fact that total e-commerce has surpassed that of the US and Western Europe combined … creating a first-in-class new retail revolution."
"New Retail" is a term coined by Alibaba Group Holding Ltd founder Jack Ma in 2016. In short, it refers to the integration of online and offline shopping experiences by utilizing a cohort of technologies to analyze and predict customers' preferences and in turn improve service.
"New Retail allows the usage of data analytics to understand consumer preferences in order to create an optimal and consistent shopping experience across different channels-physical stores, company websites and mobile commerce," said Jessie Qian, head of Consumer & Retail at KPMG China.
"This enables consumer retail companies to be extremely customer-centric ... (and) meanwhile, build up a demand-driven supply chain system and optimize overall operation."
From 2015, Tmall, the Alibaba-owned business-to-customer site, has delivered a suite of new retail solutions to help beauty brands pinpoint, attract and retain customers.
In an annual ceremony awarding new retail practices for beauty products in March, Tmall featured technologies such as "Cloud Shelf", a service that enables customers to pre-order an item online, go to a physical store for free trial, pick the product up by scanning a QR code generated through the online order, and pay using a mobile wallet.
"We've upgraded our bonus system to beauty assistants by combining online and offline sales data," said Ma Xiaoyu, general manager for Lancome China. "Such dichotomy is becoming obsolete as data generated online can effectively drive offline sales."
A total of 10 beauty brands, from Estee Lauder to SK-II, will join hands with the e-commerce giant, aiming to cross 1 billion yuan ($159 million) of annual sales on the platform.
To break that threshold, Tmall will also kick off a number of initiatives that include a new "try-before-you-buy" function, where users pay a 10 percent deposit to test a product with the promise of a simpler and faster refund process, said Jing Jie, general manager of Tmall.
As part of the push to convert online traffic into tangible sales figures, US-based luxury beauty group Estee Lauder is placing more bets on co-creating digital content with digital platforms, which are likely to stimulate impulse purchases, especially among those born in the 1990s.
"We've designed some promotional campaigns together with Tmall, through which we get to analyze customers' preferences and the conversion rate of the purchase," said Gary Chu, online general manager at Estee Lauder China.
US consumer goods giant Procter & Gamble has reaped early gains by utilizing data analytics offered by Alibaba, when it launched a new fragrance product in collaboration with a Chinese hotpot chain.
"Unlike traditional promotion practices such as celebrity endorsement, the way we choose to roll out the product is based on a thorough reading into customer insights through a campaign we carried out online," said Xu Min, president for e-commerce at P&G, who noted this one-time online-to-offline campaign has helped gain 100,000 new customers.
E-commerce is shedding its stereotype of being a marketplace strictly for bargain hunters. For L'Oreal Group, online sales represented a quarter of all revenue generated last year in China, a country that is fueling growth on its balance sheet.
Similar trends are reported by Estee Lauder, which announced an overall sales growth of 40 percent in China, with e-commerce sales increasing by 50 percent for the full year 2017. The country outpaced the group's overall sales at 5 percent.
Meanwhile, beauty consumers in China-the world's largest and fastest-growing beauty market at roughly $22 billion-are becoming sophisticated while feeling more comfortable with discretionary spending, according to a report by research firm Kantar Worldpanel.
"More people are looking for an elaborate skin-care regimen, with 35 percent of those surveyed saying they have added more steps to their beauty routines and therefore budgeting more on skin-care products," said Jason Yu, general manager of Kantar Worldpanel China.
In the beauty and fashion sector, digital marketing has necessarily become more important because it is about gathering, analyzing and using vast amounts of consumer data to tailor marketing in a personalized way that has never before been possible, said Matthew Crabbe, Asia Pacific research director at consultancy Mintel.
"Using precise data could give you a first-hand evaluation on the effectiveness of your sales and unleash more potential for brands," said Chu at Estee Lauder China.
E-commerce channels such as Tmall have much to leverage from a cohort of services, such as video portal Youku and local services such as Koubei. From there, it tracks users by studying their online behavior, tailors product recommendations to individual users and personalizes storefronts they visit.
"Our plan is really to understand from the database what are the main beauty concerns of Chinese women to solve their beauty issues, be very personalized (and) still be seen as very arty and premium," said Andrea Yann, general manager of the China market at Giorgio Armani Beauty.