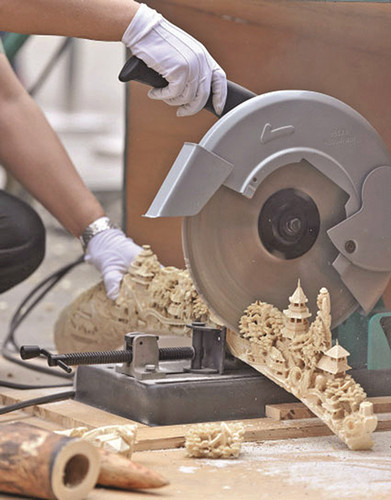 Law enforcement officers destroy confiscated tusks and ivory carvings at the Beijing Wildlife Rescue and Rehabilitation Center. (Photo/Xinhua)
Beijing introduced a complete prohibition on sales last year, leading to drastic fall in the number of elephants being killed
Back in March, inside West London's Portobello Road antique market on a typical Saturday morning, a visitor picks up a white 10-centimeter-tall representation of a man playing a flute. The piece features intricately carved details, such as the man's gown and his facial expressions. Its edges are yellowing, a sign of aging.
"This was made from ivory in the 19th century," says the store's owner, Justin Gerrard. "Seven hundred pounds for you. You can trust me that it's an authentic antique."
He is also attempting to sell a small ivory Buddha, for 300 pounds ($427), and a large ivory teapot with floral decorations, for 25,000 pounds. Elsewhere on Portobello Road, retailers are selling palm-sized ivory elephants, ivory cigar holders, an ivory depiction of the head of a Greek god, and even cutlery with handles made of ivory. Online, there is even more antique ivory on offer.
Up until last month, the sale of antique ivory remained a lucrative business, even though the trade in new ivory is officially banned throughout the world. But the trade in antique ivory in the United Kingdom is soon to come to an end as well, as the British government follows China's lead and bans the sale of all ivory, including antiques sold in such places as Portobello Road.
In early April, Britain's environment secretary, Michael Gove, announced that the UK will bring in a near blanket ban on the trade in ivory in response to consultation carried out last year.
The ban, which has been widely welcomed by conservation industry specialists, makes exceptions for only a few niche categories of ivory products, including museum collections, musical instruments, and antiques that have less than 10 percent ivory content.
However, the government has not yet announced the timeline for the implementation of the ban.