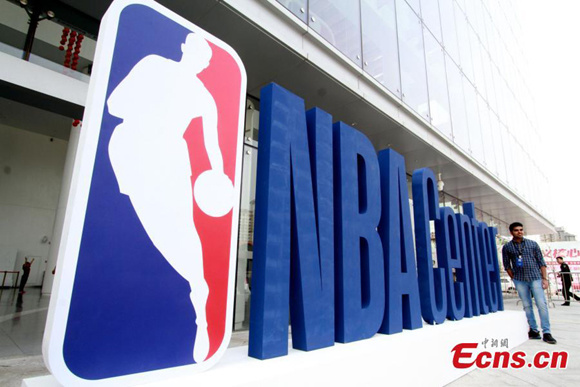 The NBA Center opens in Tianjin on April 30, 2018. Covering an area of 12,000 square meters, it is the world's first NBA-themed structure offering standard NBA basketball courts, a children's game center and a store. (Photo: China News Service/Zhang Daozheng)
'First-of-kind' NBA Center will inspire younger generations
Hall of Famer Dominique Wilkins hopes the world's first NBA Center in Tianjin can inspire Chinese kids to realize their hoop dreams.
The center, which claims to be a one-of-its-kind basketball facility, opened to much fanfare in the Wuqing district of the eastern port city on Monday.
Featuring NBA-style courts, a children's entertainment area and a retail store, the center is the latest example of the league's efforts to grow its Chinese market share.
Wilkins, a nine-time All Star who played most of his 15-year career with the Atlanta Hawks, hopes its benefits will extend beyond mere financial considerations.
"I think kids should never stop living their dreams, even though they seem so far away from basketball, even though it seems impossible," said Wilkins. "You have to dream big."
The center is comprised of three sections: NBA Hoops, regulation-sized courts featuring NBA-standard flooring for official basketball programs and tournaments; NBA Playzone, a basketball-themed entertainment and training center for children, and the NBA Store.
"Basketball has never been more popular in China, and today I'm proud to see the official grand opening of the very first NBA Center in the world," said NBA China CEO David Shoemaker.
"The 12,000-square-meter facility is a first of its kind, allowing fans to experience the NBA in a variety of ways."
As part of the opening-week celebrations, NBA Center is hosting the inaugural Junior NBA World Championship China Regional Finals, a seven-day competition to select the 10 best boys and girls to represent China at the first Junior NBA World Championship in August in the US.
"The opening of the NBA Center marks another key milestone in the NBA's effort to bring basketball to fans in China through unique interactive experiences," said NBA China CFO Wayne Chang.
"This complex brings the NBA to life, allowing fans to experience and celebrate their passion for the game, all under one roof.
"We are committed to reaching all our fans in China, so it means that we are looking forward to building more centers."
The complex is a collaboration between NBA China and Hongkun Group, a global, Beijing-based real-estate investment, development and management company.
"We're excited to join the NBA in building this unique, family-friendly destination that caters to basketball fans," said Hongkun Group president Yuan Chun.
"We can't wait to share the excitement of the game with individuals and families who desire a healthy and aspirational lifestyle."
Hongkun Group's deputy general manager, Zhang Hui, promised the center will continue to evolve over time.
"Our first guarantee is the functional diversity of the center," he said.
"Also, we will make sure it will hold various activities. Meanwhile, we have to deliver more NBA content to interact with fans. Lastly, we have to provide better and better services and increase the popularity of our brand."
Since its establishment in 2008, NBA China has paid special attention to connecting with China's younger generations through youth tournaments and charity activities.
Continuing in that vein, NBA Playzone, a family entertainment center, opened in Beijing on Sunday. The 965-sq-m facility provides a variety of basketball-themed play areas and activities.
Wilkins, 58, was also in attendance there, and said: "The NBA has initiated a lot of grassroots programs to integrate basketball with different programs around the world. It's getting bigger and bigger."