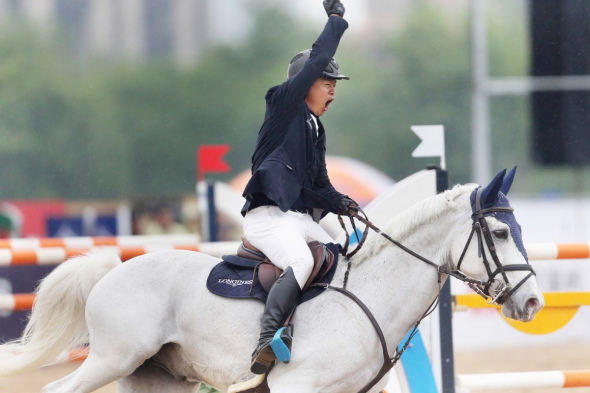 Meng Quanwei celebrates to win the FEI World Cup Tianjin leg on Tuesday. (Photo provided to chinadaily.com.cn)
China's equestrian sports world made a splash during the Labor Day holiday as its show jumpers wrapped up with podium finishes at the Longines FEI World Cup China League in Tianjin on Tuesday.
Meng Quanwei, 23, riding Chronos van Sappenleen Z, clocked 39.37 with zero penalties and became the youngest ever rider to win a FEI World Cup title, boosting his confidence in preparation for the Tokyo Olympics. Another two Chinese riders, Da Rima and Liu Tongyan, finished as runner-up and in third place.
Winning his first title after competing for three years in the discipline, Meng was grateful for his horse, which has been paired with him for four years. "It (the horse) is fast and sensitive. I shall not make any mistakes in the playoffs," said Meng during the post-match interview.
The fastest eight riders from 32 participants entered the playoffs. The fifth contestant Liu Tongyan beat the former four with 41.44 seconds and then ceded the leading position to the next rider Da Rima, who clocked 41.29 seconds. Meng ended up with the fasted time as the last contestant.
Designed by Paul Weier from Switzerland, the turf course featured 13 obstacles filled with challenging fences such as a triple combination, a double combination, a stone wall and water elements.
In the jumping competition in two phases, China's Erdeng Jirigala, who won the qualifier for the FEI World Cup on the previous day, squandered his chance to claim another win. He circled the outboard side of obstacle 11 after clearing No 9 when heading to No 10. The eventual winner Patrik Spits from Belgium, instead, took the inboard side to save one second, enough to beat Erdeng Jirigala. Spits, riding Veracruz Dh Z, won the speed and handlness competition on the previous day.
The Chengdu leg of the China league will kick off May 25.