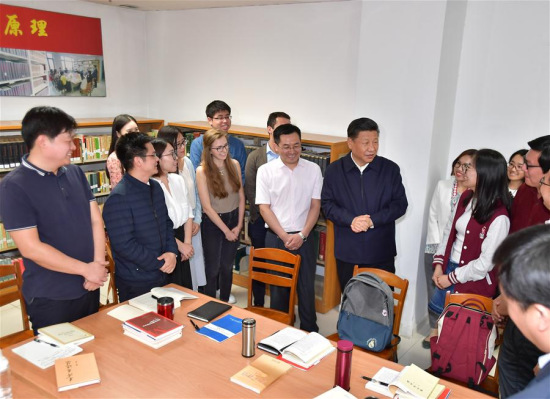 Chinese President Xi Jinping, also general secretary of the Communist Party of China Central Committee and chairman of the Central Military Commission, joins a group of Chinese and foreign students who are discussing topics related to interpreting the "new era" at the School of Marxism of Peking University (PKU) in Beijing, capital of China, May 2, 2018. Xi made an inspection tour of PKU on Wednesday. (Photo/Xinhua)
Peking University faculty also say president is forward-thinking
Scholars, students and university officials are drawing inspiration from the speech President Xi Jinping made in his visit to Peking University about boosting China's innovation on its own and improving the country's talent lineup.
They said the direction provided by Xi, also general secretary of the Communist Party of China Central Committee, effectively addresses the country's rising need to achieve high-quality, innovation-driven growth and better link education with industries.
In an inspection of the prestigious Beijing university on Wednesday, Xi called for building world-class universities with Chinese characteristics to nurture well-prepared graduates.
The visit was made ahead of China's Youth Day and the 120th anniversary of the university, both on Friday.
At a symposium with university faculty and students, Xi called for nurturing lots of talent in areas like strategic sciences, leading industries and innovation teams capable of becoming pioneers on the global stage.
Deng Hongkui, a Peking University professor of stem cell studies, repeated Xi's point and said university researchers should cultivate more science and technology talent and innovation teams in line with international standards.
The researchers should boost the country's self-reliance in the process of making major technological breakthroughs, and they should produce innovative outcomes that can serve the nation's development, Deng said.
Zou Ruiyang, a graduate student at Peking University's School of Government, said, "The general secretary's comments make me feel that the matters of this country and this nation are also the business of our youth."
Hao Ping, Party secretary of Peking University, said Xi's speech offers fundamental guidance for the university's teaching, faculty buildup and shaping its system for nurturing high-end talent.
In his tour on Wednesday, Xi also visited the university's School of Marxism.
Xi encouraged the students' serious studies on socialism with Chinese characteristics in connection with changes in the Party, the country and the world to produce more influential and convincing research.
He noted this year marks the 200th anniversary of Karl Marx's birth and the 170th anniversary of the publication of The Communist Manifesto.
Pan Jin'e, a senior expert in Marxism and socialism studies at the Chinese Academy of Social Sciences, said the university is the cradle where Marxism started to spread in China. Xi's visit to the Marxism school shows that the country values theoretical studies on Marxism.
"This will inspire young people to make technology better serve socialism with Chinese characteristics, and it will boost the use of Marxism in navigating technological research for innovation," Pan said.
Lin Jianhua, president of Peking University, said teachers and students will fulfill the goals proposed by Xi, make new discoveries and come up with new ideas, pioneer scientific and futuristic technologies and offer powerful support to the country's development.