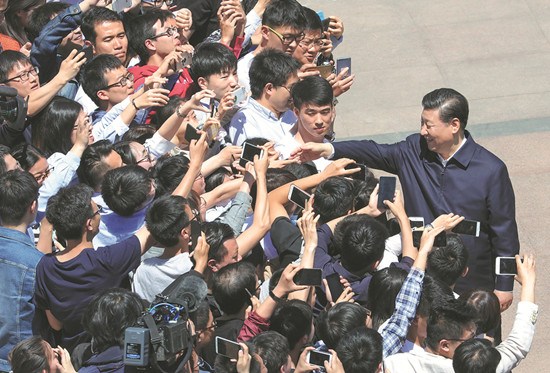 President Xi Jinping shakes hands and is photographed with students during his visit to Peking University on Wednesday. The president spoke about the university's achievements over the past 120 years. (Photo/Xinhua))
Colleges must shape next generation to lead country with socialist values
The goal of China's education is to nurture a new generation of capable young people who are well-prepared to join the socialist cause, President Xi Jinping said on Wednesday.
Xi, also general secretary of the Communist Party of China Central Committee and chairman of the Central Military Commission, made the remark while talking with students and teachers at Peking University in Beijing.
Universities should focus on their task of nurturing young people and prepare them to join the socialist cause, uphold their proper political direction, form a high-standard system to cultivate talent and build world-class programs with Chinese characteristics, Xi said.
On behalf of the CPC Central Committee, Xi greeted the university's students and teachers, the country's youth from all ethnic groups and those who work for young people.
It's a long-term task to uphold and develop socialism with Chinese characteristics and build China into a modernized socialist country, which needs continuous efforts of numerous generations, Xi said, adding that the young people should shoulder the responsibility of fulfilling national rejuvenation.
At the university, Xi talked with some senior professors as well as representatives of middle-aged and young teachers. He praised their contribution to cultivating excellent students who are needed by the Party and the people.
Xi spoke highly of the achievements that Peking University has made in scientific research and innovation. China must rely on itself to develop key technologies and boost innovation, he said.
The president also viewed an exhibition on Marxism, and told foreign students that to learn about China, they should first learn about Chinese history, culture, development and, especially, Marxism in China today.
This year marks the 120th anniversary of the founding of Peking University. Hao Ping, the university's Party secretary; Wang Bo, a philosophy professor; and Song Xi, an undergraduate student majoring in psychology, reported to Xi on their work, research and study conditions.
Highlighting that Marxism is the CPC's guiding thought, the president said students should be taught with opinions and measures of Marxism.
Xi emphasized the importance of establishing a high-quality force of teachers with reliable political quality and skillful abilities.
Enhancing the Party's leadership and building is an important part of building a high-level system to cultivate top talents, Xi said, adding that the Party's leadership over universities must be upheld.
After hearing that Peking University has made outstanding achievements in building itself into a world-class university in recent years, Xi said that only when the country becomes world class will there be world-class universities.
During the talks, the president also shared with students his experience in reading books. Knowledge and academic research should be integrated with reality, Xi said.
Xi said that through reading books about Marxism-Leninism, he developed independent thoughts at an early age and found that Marxism is the truth.
The CPC's leading status is chosen by both the people and history, Xi said, adding that socialism the only path for China's development.