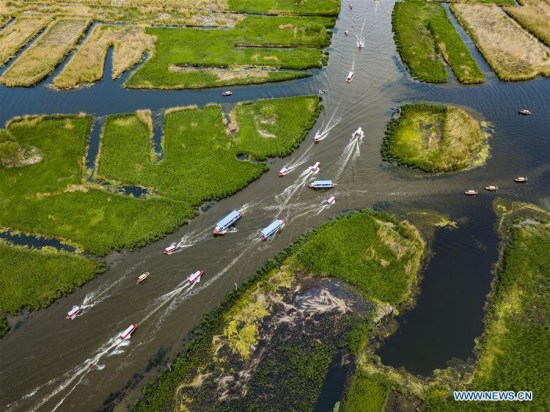 Tourists visit the Baiyangdian lake in Xiongan New Area, north China's Hebei Province, April 30, 2018. Many tourists spent their leisure time here during the May Day holiday. (Xinhua/Shen Bohan)
China's Ministry of Ecology and Environment (MEE) held talks on Thursday with leading government officials in three cities in north China that failed to meet air improvement targets.
Liu Changgen, deputy director of the national environmental inspection office, held talks with government officials of the cities of Jincheng and Yangquan in Shanxi Province and Handan city in Hebei Province.
The inspection team found many problems of air pollution in those cities, Liu said, adding that shortcomings still exist despite tough air-cleaning measures taken by local authorities in winter.
The three cities remained at the bottom of the rankings for meeting air improvement targets in 28 cities in the Beijing-Tianjin-Hebei region.
The ministry also suspended environment impact assessments (EIA) for new projects in those cities.