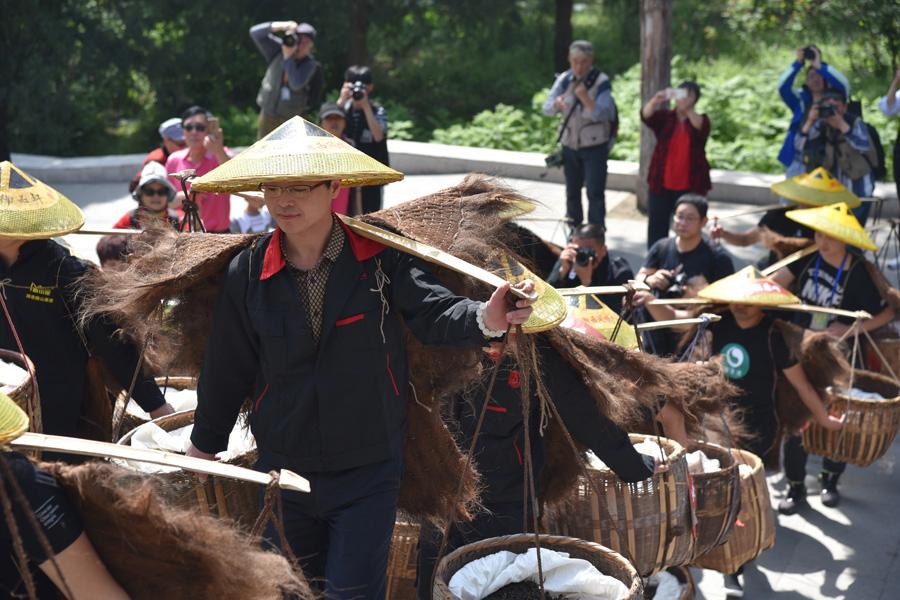 Scores of local villagers in Anhua county carry two baskets of dark tea with one shoulder pole while walking up the stairs in Beijing on April 28, 2018.(Photo by Zhang Xingjian/chinadaily.com.cn)
The opening ceremony of the 17th Chinese Garden Tea Culture Festival and Anhua Dark Tea Culture Week was held at Beijing's Badachu Park on April 28, as part of the Anhua government's efforts to develop the tea industry into a powerhouse for economic growth.
Anhua county is one of the few places in China that produces dark tea. As the story goes, the area's cultivation of dark tea predates the creation of the county in Hunan province, reflecting Anhua's long history of dark tea.
According to Chinadarktea.com, dark tea was discovered by accident. When shipped north on the sea and then along the Silk Road in ancient times, humidity caused the dried leaves to ferment and develop a strong aroma. The change also gave the tea greater longevity.
Special processing makes dark tea different from other tea varieties.
The tea leaves are first heated, kneaded and twisted. Then the leaves are sprinkled with water and placed in huge piles under cloths to ferment before being dried. After treatment, the tea takes on a dark black color.
Once brewed, it has a strong aroma with a thick flavor. The taste and aroma are said to improve with age.
Prev Button
Next Button