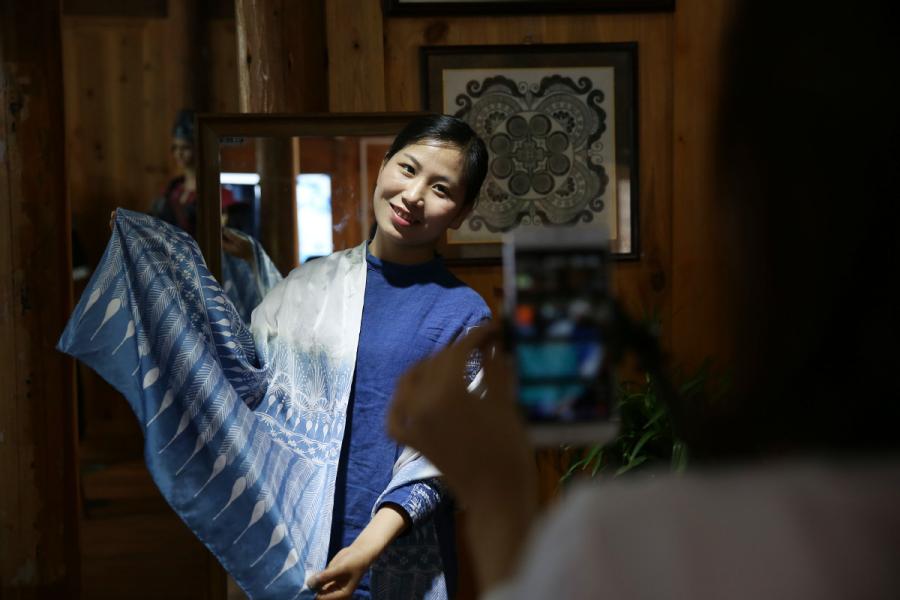 Zhang Yiping shows her batik product via mobile livestreaming platform in Danzhai county, Guizhou Province, May 2, 2018. (Photo/Xinhua)
Zhang Yiping, 25, is an entrepreneur who is fascinated by batik, a traditional Chinese cloth dyeing technique, and is determined to spread batik culture abroad with her products.
Zhang learnt batik techniques from her mother in her hometown at Yangwu town, Danzhai county, Southwest China's Guizhou Province, which is also dubbed as hometown of batik.
After working in other places for some time, she decided to return to her hometown and start her own business by establishing a batik handcraft cooperative in 2014.
Two years later, Zhang started her own company with a business model combining company, cooperative and craftsmen to develop a series of batik products such as clothes and home decorations with the support of local cultural department.
After years' of development, Zhang opened specialty stores for batik products and handcrafts manufacturing base near her hometown. She also uses e-commerce and online livestreaming platforms to sell her products.
Zhang has helped over 100 women in her hometown to get rid of poverty.
"I have a dream of establishing my own batik brand to spread the ancient and simple batik culture of Miao ethnic group abroad," Zhang said.
Prev Button
Next Button