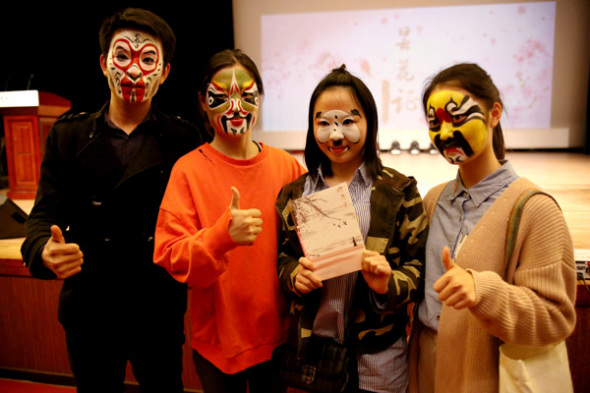 Students of the Capital Normal University in Beijing have a facial make-up of Kunqu Opera. (Photo: China Daily/Du Lianyi)
"I love everything about Kunqu Opera, such as the musicians, the actors' singing and the lyrics. They are so beautiful," says Bai.
"Some of the students had never seen Kunqu Opera shows before and just joined out of curiosity. But they soon became interested in the art form, and some of the students are now able to sing a complete Kunqu Opera work."
Huo, whose father is a veteran Peking Opera actor, started learning Peking Opera in Beijing aged 12. At 22, he began to study Kunqu Opera at the training school of the Northern Kunqu Opera Theater. In 2017, he obtained his master's degree in directing from the National Academy of Chinese Theatre Arts.
"I am not afraid of experimenting with new ideas for Kunqu Opera because it is such a vibrant and valuable art form with a long history."
According to scriptwriter and director Song Jie, a retired professor formerly with the Shanghai Theatre Academy, and artistic director for Epiphyllum, Kunqu Opera is the perfect medium for portraying romantic and tragic love stories because of its soft and soothing music.
"I was very excited when Huo told me about the show, because it's a new story performed by new actors. When we talk about Kunqu Opera, we always mention the classic piece, The Peony Pavilion."
"But modern Chinese theater needs something new and the art form itself needs new works to keep it alive and moving forward," the 71-year-old says.