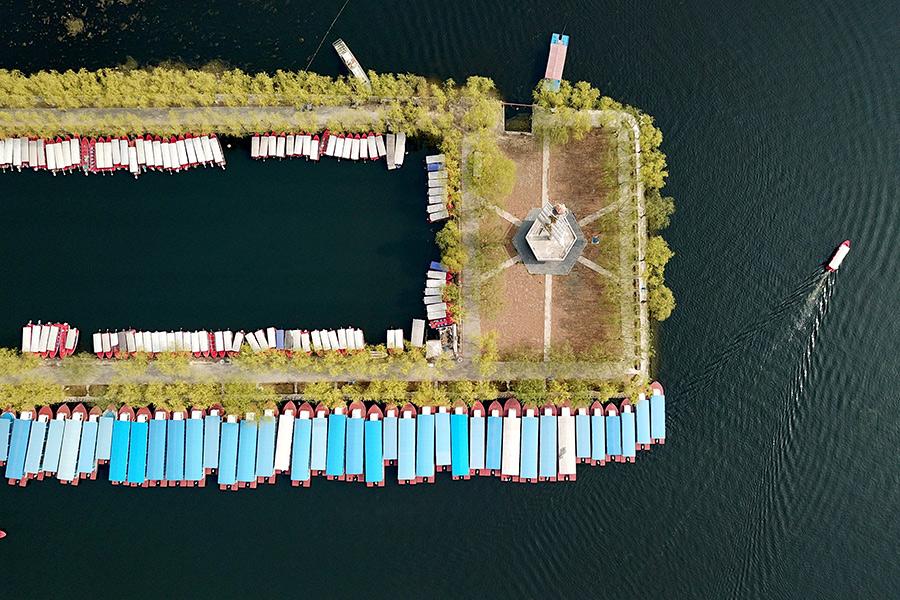 This aerial photo taken on March 30, 2018 shows a tourist pier in the Baiyangdian Lake in Xiongan New Area, North China's Hebei Province. (Photo/Xinhua)
China on Saturday published the master plan for Xiongan New Area, creation of which is "a strategic decision with profound historic significance made by the Central Committee of the Communist Party of China (CPC) with Comrade Xi Jinping at the core."
The 10-chapter document, which is the fundamental guideline on the planning and development of Xiongan New Area, lists overall development goals for the new area.
By 2035, Xiongan will develop into a modern city that is green, intelligent, and livable, with relatively strong competitiveness and harmonious human-environment interaction.
By the middle of the century, it will become a significant part of the world-class Beijing-Tianjin-Hebei city cluster, effectively performing Beijing's non-capital functions and providing the Chinese solution to "big city malaise."
Let's take a look at the nine highlights of the newly released document.
1. Developing scientific and reasonable layout
The document says that priority shall go to ecological protection with the new area pursuing green development. With the total area of construction land set at about 530 square kilometers, Xiongan will strictly control land use and cap its land development intensity at 30 percent.
About 10 percent of the new area's land will be put under permanent protection as basic farmland, while the population density will be no more than 10,000 people per square kilometer.
Prev Button
Next Button