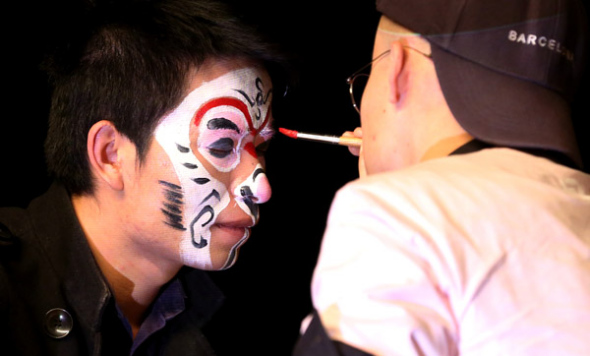 Students of the Capital Normal University in Beijing have a facial make-up of Kunqu Opera. (Photo: China Daily/Du Lianyi)
Ahead of this, Huo and his cast took the show on a preview tour of Beijing universities, visiting Capital Normal University on April 12 before going on to Renmin University on April 18.
"We are attempting to bridge the gap between the performing style of Kunqu Opera and the tastes of modern theater audiences," says Huo, adding that the three main actors in the production are of a similar age to the students they met, and that the promotional video for the show combined scenes from Kunqu Opera with hip-hop music.
He also added Western string instruments, violin and cello to the band, while retaining the major musical instrument for Kunqu Opera - the bamboo flute.
At the CNU showcase, actors from the troupe interacted with the students, painting their faces as different characters from Kunqu Opera, and introducing them to the history of the ancient art form. Scenes from Epiphyllum were also performed.
One of the audience members was Bai Qiutong, a graduate student from the CNU's music department. After graduating with a bachelor's degree in history, Bai started up a student community for learning Kunqu Opera in 2016, the first of its kind at the university.
Initially, about 30 students applied to join the community, but now it has more than 130 members. Every week, professional actors and musicians offer students training and guidance on how to perform Kunqu Opera.
Bai became interested in Kunqu Opera at the age of 11 when she began reading scripts of famous works by Ming Dynasty (1368-1644) playwright Tang Xianzu, such as The Peony Pavilion and The Purple Flute, which have been adapted into Kunqu Opera shows.