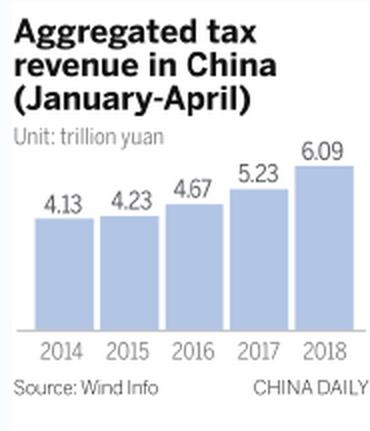 Steady increase in revenue to provide leeway against external headwinds
Substantial growth in China's fiscal revenue during the first four months of this year and the rapidly improving financial climate are expected to give policymakers more leeway to issue policies that can sustain growth momentum in the second quarter, experts said on Tuesday.
The robust growth in fiscal revenues will allow policymakers to fine-tune policies in order to ensure stable growth and withstand unexpected headwinds and risks in the short-term, such as trade frictions and the financial deleveraging campaign, said Wendy Chen, a senior economist with Nomura Securities.
Chen expects the government to speed up fiscal spending in the coming months to maintain the growth momentum.
From January to April, the country's gross fiscal revenue maintained a double-digit growth rate of 12.9 percent year-on-year to reach 6.9 trillion yuan ($1.08 trillion), with tax income accounting for 6.09 trillion yuan of the total, according to data from the Ministry of Finance.
Fiscal revenue stood at 1.85 trillion yuan in April, up 11 percent from a year earlier, while tax revenue rose 14.6 percent to 1.66 trillion yuan, according to the ministry.
Bai Jingming, vice-president of the Chinese Academy of Fiscal Sciences, said the higher tax income was largely due to the steady economic growth momentum.
China's industrial output expanded to 7 percent in April, increasing from the 6-percent rise in the previous month and beating market expectations of around 6.4 percent, official data showed.
During the first four months, industrial output rose 6.9 percent, compared with the 6.8-percent gain in the first quarter, the National Bureau of Statistics (NBS) said in a statement.
"Economic restructuring is gathering pace with the upgrade of traditional industries and the fast expansion of emerging industries. The overall improvements in corporate profits has also contributed to the tax increase," said Bai.
Meanwhile, steady growth in consumer spending has to a large extent buoyed revenue growth with an increase in individual earnings and improved employment prospects. "That could further spur growth in revenue from income tax and consumption tax," Bai added.
The finance ministry reported an 18.4 percent growth in value-added tax in the first four months, 24 percent in consumption tax, 13 percent in corporate income tax and 20.8 percent for individual income tax.
The faster growth in individual income tax, compared with that of the corporate sector, proves the fact that the residential sector has seen faster growth in revenue and has benefited more from economic growth during the past months, according to a research note from Huatai Securities.
Economists predicted that the strong expansion of fiscal income could support sufficient fiscal expenditure in the second quarter as proactive policy measures will continue to prevent negative impacts from economic headwinds.
"We expect Beijing to continue its pledged supplementary lending program to support home purchases in lower-tier cities and boost fiscal spending," said Chen from Nomura.
During the first four months of 2018, China's total fiscal spending reached 6.57 trillion yuan, up by 10.3 percent from a year earlier, slower than the 16.3 percent growth in the same period last year, according to the finance ministry.
In April, fiscal expenditure expanded 8.2 percent year-on-year to 1.47 trillion yuan, the official data showed.
Though China's economy maintained steady development in April, it still faced considerable external uncertainties and problems of unbalanced and inadequate domestic development, NBS spokesperson Liu Aihua was quoted as saying by Xinhua News Agency.
Despite robust industrial output figures, the retail sector, which is key for China's consumption-driven growth, was one area that fell short of expectations with sales growth slowing to 9.4 percent from 10.1 percent in March. The indicator fell below the 10 percent forecast by analysts.
Expansion in fixed-asset investment also sagged to 7 percent year-on-year for the first four months, from the 7.5 percent recorded in the first quarter.
"Looking ahead, domestic spending is likely to continue to soften given the headwinds from slowing credit creation," Julian Evans-Pritchard, an economist at Capital Economics, told AFP.