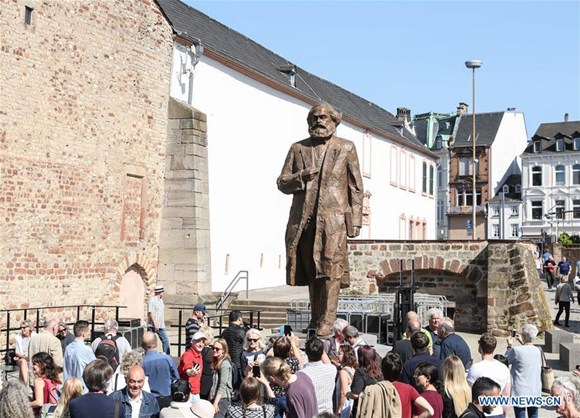 Visitors gather in front of the Karl Marx statue in Trier, Germany, on May 5, 2018. A China-donated statue of German philosopher Karl Marx was unveiled on Saturday in his birth town on the 200th anniversary of his birth. (Xinhua/Shan Yuqi)
Visitors poured into the reopened Karl Marx House over the weekend, as enthusiasm runs high for the great thinker's bicentennial birth anniversary in his hometown of Trier, southwestern Germany.
"It is definitely more than 1,000 visitors yesterday. I guess there will be hundreds of visitors today," said an employee at the reception of the House on Sunday.
The reopening, a ceremony of which was held on Saturday morning, enables visitors to a modern and interactive touch of Marx with new exhibits, including an armchair in which he passed away.
Another chair was situated nearby, allowing a visitor to sit down and appreciate who had occupied the armchair.
"It is great experience that I am talking with the great man,"said Brigitte Biertz, who runs a shop at the nearby Karl-Marx-Strasse.
Despite coming here before, she said she "must come here again" now as a new permanent exhibition was in place.
Sunshine flooded in across the windows, lighting the rooms of the three-story, baroque-style House, which has a plaque on the outside stating "Karl Marx was born in this house on the 5th of May 1818."
Inside, dozens of pages of a new guestbook have been signed within a single day, in languages that vary from English, German, Arabic, Korean to Chinese.
"To my daughter Rebecca, you should have been here. If not today, maybe later. Love, Dad. " read one of the English-language messages, adding "P.S. You make communism help the people."
MARX EVERYWHERE
Marx was seen everywhere across Trier, a city of 100,000 residents, which marked the occasion with high-profile events that included a Saturday debut of a statue of Karl Marx, as a gift from China.
Towards early hours of Sunday, several taxis were waiting near the statue to take passengers, as more visitors were seen to pose for pictures than in adjacent Porta Nigra, a large Roman city gate dating back to the first century AD, which was designated as a world heritage by the UN cultural wing.
Neighboring Porta Nigra was a grand exhibition "Karl Marx 1818-1883, Life, Work and Time," sponsored by the federal state of Rhineland-Palatinate and the city of Trier.
Traffic lights featuring adorable likeness of him in red and green was visible. What's no longer visible was zero-euro souvenir bank notes in honor of Marx, which sold out quickly.
At Trier Souvenir, a shop not far from the newly unveiled statue, entire shelves were dedicated to Marx memorabilia. Tourists snapped up souvenirs fast.
PROUD LOCALS
Local residents were also happy to see the celebrations, including Michael Becker, who said "I was born 200 meters away from Marx's birth house so I have a direct position to him."
Trier is really proud of this man, and very proud of the friendship with China which sent "the big statue," he said.
For Michael Thielen, a 67-year-old retired teacher in German and English who grew a beard similar to Marx's iconic beard, it was Marx's "more than up to date" ideas that appeal to him.
"The multinational trust is still exploiting the people, and the wealth of the world is more and more concentrating. Poverty is rising, and rich people are richer." Thielen said, "what he said and wrote in the 19th century is still very important."