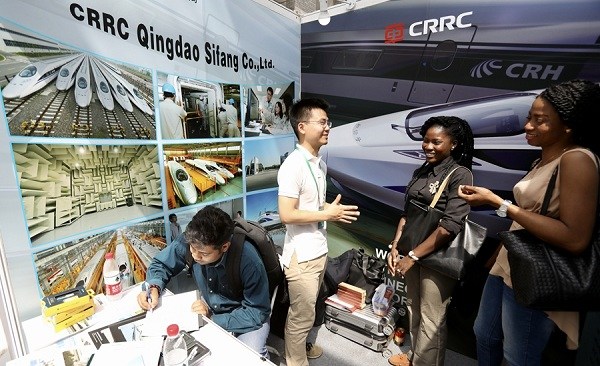 An employee from China Railway Rolling Stock Corp chats with two women at a job fair for international students at Peking University. (Zhu Xingxin/China Daily)
Companies want them, but regulations can be a hindrance to many in search of their dream. Zou Shuo reports.
Universities nation-wide have seen a boom in overseas students in recent years as young people seek to capitalize on the opportunities presented by China's growing global engagement.
Yet despite the strong demand for such talent among domestic enterprises, strict employment policies mean few foreign students are able to remain after graduation to find work in the country.
Russian student Kira Maksimova, 21, has spent the past four years in Beijing studying for a bachelor's in business administration at the University of International Business and Economics.
"My plan is to stay in China after graduation, and I already have some offers," she said, adding that she feels the country's rapid development has brought a lot of opportunities for foreigners looking to work with major corporations.
Student visas allow holders to apply only for internships, paid or unpaid. Maksimova currently works in BOE Technology Group's human resources department, and she has applied for spots at other companies across the Chinese capital. However, she knows finding a full-time job will be tough.
"I really, really want to work in China, to take advantage of my education background, but I know that many seniors do not get jobs and have to return to their home countries," she said.
The number of foreigners enrolled at Chinese universities has risen almost tenfold from 52,150 in 2000 to 489,200 last year. The nation is Asia's top destination for international students, with the majority arriving from South Korea, Thailand, Pakistan and the United States, according to the Ministry of Education.
A 2009 poll of overseas students at Peking University found 82.7 percent had chosen to study in the country because they wanted a career related to China, while a survey taken at a 2016 job fair organized by the ministry's Chinese Service Center for Scholarly Exchange and Peking University found 95 percent of international students wanted a job in China.
Landing a full-time job, however, is easier said than done.
"My feeling is that it's not difficult to find a job, but not necessarily the one you want," said Italian student Paolo Scroccu. "It's very easy to find a job teaching English, or something that needs English speaking or writing skills," but that is not his dream career, he said.
He said that, as a sophomore at Tsinghua University's School of Economics and Management, he is interested in consulting and providing strategies for business development.
"My fluency in several languages, global mindset and previous working experience with a big multinational European company offer me advantages over Chinese graduates," Scroccu said.
Saman Pouyanmehr, a senior at UIBE from Iran, added that the biggest hurdle for foreign jobseekers is the lack of information.
As few job fairs cater to such students, he said most get their information about internships and job vacancies from websites or other classmates.
"There are 100 international students in my class, but only four have found jobs in China," said Pouyanmehr, who has been offering advice to major Chinese companies with plans to expand in the Middle East.