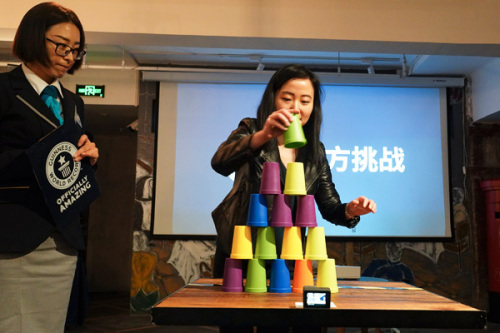 A Guinness World Records official supervises a cup-stacking challenge at a news conference on Wednesday. (Photo by Gao Erqiang/China Daily)
Applicants favor categories of food, strength and big crowds
China has become Guinness World Records' fastest-growing market, with 2,000 annual applications, the 63-year-old organization said in Shanghai on Wednesday.
Globally, it receives an annual average of 40,000 to 50,000 applications.
While the number appears low for a country boasting the world's largest population, there's an unparalleled interest from both individuals and institutions in challenging the records, and that is pushing applications up by 10 percent per year, the world's fastest rate. Globally, growth has been flat at around 1 or 2 percent.
"I think the reason that China has not stood out is that the records have been built on an Anglo-focused culture, due to its origin," said Marco Frigatti, general manager of the Greater China region for Guinness.
The best-selling copyrighted book of all time, Guinness World Records was created in 1954 after the manager of the Irish brewery named for the family got into a debate over which was the fastest game bird in Europe and was inspired to compile a reference book to settle such debates at pubs.
"People always assume that China is a big country and has the advantage in breaking records. But I don't agree. I think it's not the number of people that gives China the advantage but its diversity and history. So we have dedicated a special record of World Records to the country. We call it China Pride," Frigatti said.
This is so far the only country-specific record of records to be introduced by Guinness, which verifies records from 178 countries annually. It now has close to 1,000 records, including the world's longest wood carving and the most simultaneous blindfolded Chinese chess victories. The latter record is held by someone who played against 21 opponents while wearing a blindfold, and having his opponents tell him their moves.
Around 70 percent of the applications, both globally and from China, are rejected because they fail to meet the five criteria set by the company, including "measurable", "breakable" and "standardizable". Only 5 percent manage to break a record or become a record-holder.
Guinness World Records rolled out its first Chinese language publication in 2000, and became a household name after partnering in 2006 with one of CCTV's most watched shows, Zheng Da Zong Yi, for an annual special. In 2012, it set up its Chinese office, one of six regional offices around the globe, to cater to the increasing demand for record verification.
Having worked as an adjudicator globally for the company for 15 years, Frigatti said Chinese applicants share a particular interest in three areas: food preparation and consumption; strength and martial arts, such as pulling the heaviest vehicle with one's eyelids, ears or stomach; and mass participation.
"It's taken for granted that a thousand people can be summoned in China for a record. But anyone with kids or having led a team would know the difficulties in synchronizing individuals in the same space at the same time," Frigatti said.
In 2015, however, the company denied a record application from the tourism bureau in Yangzhou, Jiangsu province, when it discovered that part of the "world's largest Yangzhou fried rice" dish, which weighed 4 metric tons, was thrown away after the record was certified. According to the company, that violated its "no waste" rule concerning food records.
The company now makes 90 percent of its Chinese revenue through brand licensing and multimedia, with the rest coming from publishing. Its revenue from China is soaring at 20 percent year-on-year, making it the fastest-growing market worldwide.