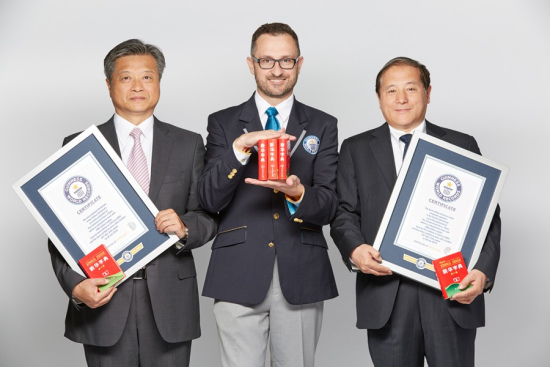 Guinness World Records SVP of Records Management and General Manager of China Office Marco Frigatti(M) presents the certificates to Xinhua Dictionary. (Photo by Guinness World Records)
Since the first Guinness World Records book was published in 1955, the organization responsible for certifying the world's greatest and best, Guinness World Records, has not just captured many amazing and sometimes weird world records, but has also been a witness of many human achievements.
"We have 50,000 records in our database. Every year we receive about 47,000 record enquiries, so almost 1,000 a week. But, at the moment we only have about 1,500 record claims and enquiries from China each year, and the number of new records created by Chinese is about 300 yearly," Alistair Richards, the global president of Guinness World Records, told Xinhuanet recently in an exclusive interview.
"The truth is that we need many more record claims and enquiries from China. We are determined to have many more records by Chinese in our database, and this is why we now have an office in Beijing. We want to encourage Chinese people to make record claims, and we are looking forward to witnessing more and more 'China Prides'," added Richards. On the Guinness World Records concept, Richards explained that the idea came about in the early 1950s, when "the Managing Director of the Guinness Brewery, Sir Hugh Beaver, attended a shooting party in County Wexford. He and his hosts were arguing about the fastest game bird in Europe, and failed to find the answer in any reference book. In 1954, recalling this argument, Sir Hugh had the idea for a Guinness promotion based on the idea of settling pub arguments. He invited two fact-finding researchers to compile a book of facts and figures, and in 1955 the first Guinness World Records book appeared on the shelves of bookshops in England."
For over 60 years, the Guinness World Records brand has been upholding its principles of rigorousness, objectiveness and professionality. At the same time, Guinness World Records continuously works on finding new world records. "We have a large team and record researchers, and it is their job to take claims that come from the general public and to record enquiries coming from governments or companies," Richards said.
"If someone has an idea that he or she might have a record for something or he or she would like to create a challenge or build something, that person wants to know if it could indeed be a record. As their enquiries reach our office, our teams of record managers research these record claims. They might speak to external experts, for example, if the idea has to do with special technology, they might speak to NASA or a rocket scientist. They then take that information, match it with the record claim and come out with a record title and guidelines. That is the process, and it can happen all the time. The record enquiries come to us via our website," he explained.
What impressed the Guinness World Records global president most is that a Guinness World Records title is not just an honor, but also has the power to change people's lives. "What impacted me personally the most is meeting Sultan Kosen, the world's tallest living man, who is 251cm tall. He found his life very difficult, living in a house in which he could not stand up straight. He found it very difficult to get clothes, get a job and earn any money," Richards said.
"After we verified Sultan as the world tallest living man, he became famous. The Turkish government paid for him to have a new flat in Ankara. A hospital in America offered him a free therapy to control his pituitary tumor which continuously produces growth hormones, and this treatment saved his life," he added.
By now, over 138 million copies of the Guinness World Records Book have been sold. "It once held the title of "Best-selling book (regularly updated). However, the Xinhua Dictionary has taken over that title, as since its introduction in 1953, 567 million copies were sold. This means almost every Chinese home has a copy of the dictionary, and I think it will continue to be a Guinness World Records titleholder for many years," said Richards.
Currently, Guinness World Records is planning the "China Pride" project. "This project is a very important initiative aiming to discover, certify, celebrate and show records involving China. These records demonstrate China's history, its culture and its new science and technology. Tsinghua University for example came to us with the earliest decimal computation system, namely 21 bamboo strips. This system was developed by Chinese 2,300 years ago and it was an early form of a computer. "China Pride" focuses on such amazing scientific facts," Richards said.
"What Guinness World Records does, is presenting these facts to the general population in China as well as telling the whole world about these inspiring stories regarding ancient Chinese culture and its sophistication. We hope all of China will celebrate Chinese history, culture and scientific development, and also want to communicate these stories to the rest of the world," he added.
"The reason why Guinness World Records has been around for over 60 years, while continuously getting stronger and being welcomed in every country around the world, is that we believe everybody is amazing and unique at something, no matter wether it concerns an individual, a town, a school, a city, a province, or a country," Richards said.
"We show people all these records we certified as the best in the world, and we demonstrate that there is no limit to what people are unique or good at. That inspires people to make the best of who they are and of the city they live in, and celebrate or make the best of the company they work for or the country they live in. We help people to build up their self-esteem and self-confidence, and that is the secret of Guinness World Records. It is about recognizing there is no limit to human achievements," he concluded.