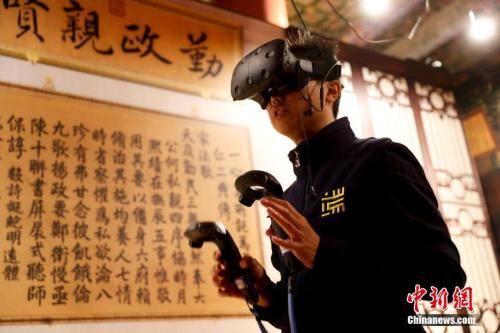 A visitor to the Palace Museum uses VR technology at the Hall of Mental Cultivation. (Photo/China News Service)
(ECNS) -- China's Internet copyright industry reached 636.5 billion yuan ($100.9 billion) in 2017, up 27.2 percent from the previous year, among which the paid market accounted for 318.4 billion yuan, according to a report released by National Copyright Administration.
The report followed World Intellectual Property Organization's guide on defining core copyright industries: the creation, production, performance, exhibition, communication or distribution and sales of copyright protected subject matter.
It showed Chinese traditional cultural industry is rapidly integrating with the Internet to speed up digital transformation in online reading and e-gaming etc. The online reading market increased 31 percent year-on-year to reach more than 10 billion yuan, while the compound growth rate will remain at 30 percent for years to come.
The market for paid videos reached 21.8 billion yuan in 2017, nearly doubling in growth year-on-year, and is expected to maintain a 60 percent increase in the next two years.
The online gaming market hit 235.5 billion yuan in 2017, up 32 percent year-on-year, the report said.
The online music market rose 22 percent year-on-year to 17.5 billion yuan, while the online news and information market increased more than 40 percent to 30.5 billion yuan, said the report. Revenue from mobile news apps rose by 75 percent, mainly from ads.
According to the report, the number of live streaming users reached 422 million, an increase of 77.78 million from 2016, while the live streaming market totalled nearly 40 billion yuan.
The short-video industry also recorded dramatic growth with users reaching 410 million, a year-on-year up of 115 percent. The industry, which only started in 2014, is expected to reach a market scale of 35 billion yuan by 2020.
A key challenge amid rapid growth, the average time a mobile Internet user spent online increased by 8.7 minutes over the same period last year.