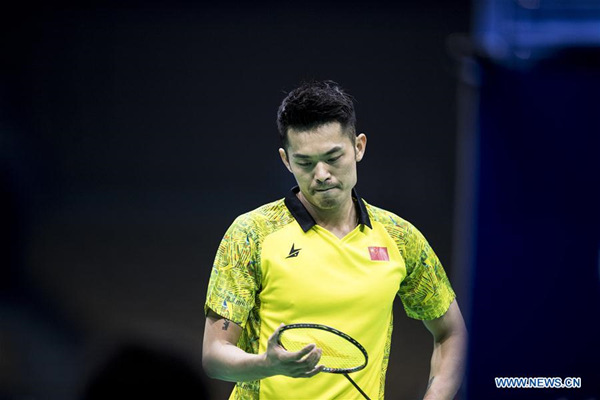 Lin Dan of China reacts during the men's singles first round match against Chinese Taipei's Wang Tzu Wei at Badminton Asia Championships 2018 in Wuhan, capital of central China's Hubei Province, April 25, 2018. Lin Dan lost by 1-2. (Xinhua/Xiao Yijiu)
Former badminton world No. 1 Lin Dan suffered his third first-round exit of the season here on Wednesday, as the four-time winner lost to Wang Tzu Wei of Chinese Taipei 15-21, 21-9, 21-16 in the Badminton Asia Championships.
Lin went into the match with a strong start, winning the first game 21-15. But the two-time Olympic champion suddenly struggled in the second game, as his opponent, who is 12 years younger, quickly built a 6-0 lead to wrap up the second game 21-9.
"The first game was good for me, but I wasn't focused in the second. When you lost six points in a short time, it was hard to reclaim the control of the game," Lin said.
Wang maintained his momentum and opened the third with a 5-0 start. Although Lin tried to pull the game back, it was Wang who played more aggressively with less mistakes from then on.
"I thought too much on the court in the third game, and the quality of my play was not as good as Wang," Lin added.
The 35-year-old Chinese veteran has seen a slump in recent years. He has played in four tournaments ahead of the continental tournament, but finished with only one final appearance.