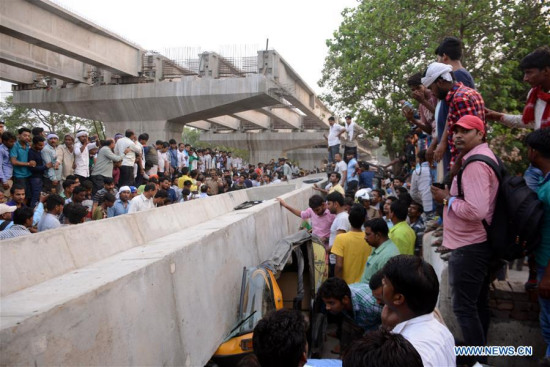 People gather at the site where an under-construction flyover collapsed in Varanasi district, Uttar Pradesh, India, on May 15, 2018. (Xinhua)
At least 18 people have been killed and many others feared trapped after an under-construction flyover collapsed on Tuesday in northern Indian state of Uttar Pradesh, officials said.
Six people have been pulled out alive from the debris and were admitted in hospital.
The flyover collapsed at cantonment area in Varanasi district, about 306 km southeast of Lucknow, the capital city of Uttar Pradesh.
"So far 18 bodies have been retrieved from the debris. Six people were pulled out alive and are undergoing treatment in hospital," a local government official told Xinhua. "We are carrying out the rescue work and heavy machinery has been pressed into service to move the concrete."
Officials fear the death toll may go up.
A senior government official Arvind Kumar told media the final figures were awaited as the rescue work was yet to be completed.
Officials said a portion of an under-construction flyover collapsed after two of its pillars collapsed bringing a huge slab of concrete down, crushing vehicles and people under it.
Eyewitnesses said those trapped are said to be laborers, bystanders and some pedestrians.
Five teams of the National Disaster Response Force (NDRF) have been deployed to lead the rescue operations. Dozens of policemen are also present at the spot to allow rescuers to carry out work without interference of people.
Eight cranes besides earth movers are being used to try to lift the debris.
Officials said gas cutters are being used to cut the steel and pull out trapped survivors on priority.
Uttar Pradesh Chief Minister Yogi Adityanath has expressed grief and directed the administration to speed up rescue operation.
Adityanath's office has also announced a compensation of 7,322 U.S. dollars to each family that lost member in the accident, while 2,928 U.S. dollars would be given to each of injured in the tragedy.
The state-run broadcaster All India Radio said Adityanath has set up a three-member committee to probe the flyover collapse and asked it to submit its report within 48 hours.
Indian Prime Minister Narendra Modi has expressed sadness over the loss of lives in the accident.
"Extremely saddened by the loss of lives due to the collapse of an under-construction flyover in Varanasi. I pray that the injured recover soon. Spoke to officials and asked them to ensure all possible support to those affected," an official statement quoted Modi as saying. (Updated)