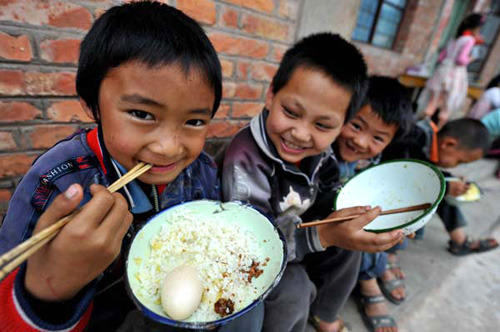 Students have launch in a primary school in Enle township, Yunnan province, April 25, 2012. [Photo/Asianewsphoto]
  A multibillion-yuan program aimed at providing free, nutritious meals for rural students could fail unless authorities give schools clear guidance on hygiene and spending, experts say.
  The central government is spending an estimated 16 billion yuan (US$2.5 billion) a year to improve the standards of school canteens in poor areas.
  Since last autumn, primary and middle schools in 690 counties have received 3 yuan a day for each student, affecting roughly 26 million children.
  However, efforts have been hit by a spate of food poisoning cases this spring, as well as reports that food suppliers are overcharging.
  "The program is intended to improve children's nutrition, but simply increasing spending does not mean the condition of the children's health will automatically improve," said Cheng Chunming, a well-known nutritionist.
  "I'm against schools just buying bread, milk or eggs for students. That's too expensive. Schools can provide better nutrition with that money, as long as they know how."
  Health and education authorities are yet to release rules and guidelines on how to spend the subsidies.
  "It's the health department's responsibility to give such guidance, like how much vegetable, meat, egg and rice a child needs every week, so the school kitchens can purchase this stuff cheaper," Chen added.
  On April 9, more than 360 youngsters at Dingla Primary School in Yunnan Province suffered fever, stomachache and diarrhea after having lunch at their school canteen.
  The Zhenxiong county government found the school canteen was operating without certification from the health department.
  Two school principals were removed from their posts on Friday.
  This followed a similar incident in March when more than 200 students fell ill after eating egg yolk pie in Xuanwei, Yunnan.
  The cakes distributed to students were found to contain chicken feathers and did not have the necessary safety certificate.
  "To be frank, most school kitchens in my district can't meet the hygiene standards. Some don't even have kitchens," said Fan Kaijian, deputy director of Zhaoyang district in Zhaotong, Yunnan. The district has 183 primary schools and 26 secondary schools, with around 150,000 students.
  "Even at schools with kitchens, the space is rather small. Some don't have refrigerators, and the education bureau doesn't have the money to buy them one either.
  "The only practical measure for us to enhance school food safety is to provide physical exams and cooking training to kitchen staff, who are in fact teachers voluntarily cooking for the children," Fan said.
  Wang Luowei, disaster relief program manager for the China Foundation for Poverty Alleviation, said kitchen equipment, including a gas stove, refrigerator and sterilizing cabinet, costs nearly 40,000 yuan.
  "That's why we raise funds to help (rural schools) build kitchens," she said, adding that since 2008, his foundation has raised more than 40 million yuan to build 80 school kitchens in Sichuan and Yunnan provinces, as well as provides eggs and milk for 38,000 students.
  Kitchen supplies are not the only problem. Getting ingredients can also prove difficult.
  In early April, a milk supplier in the Guangxi Zhuang Autonomous Region reportedly sold milk to a school well above market price—the milk delivered to students only cost 2 yuan, but the supplier charged 3 yuan.
  Guangxi Zhuangzhuang Dairy, the supplier, later explained that the milk was packed in Guangxi's capital, Nanning, 465 km away from the school.
  The transportation cost was 0.7 to 0.8 yuan per cup of milk, adding 0.25 yuan in profit.
  In Yunnan, where aid-receiving schools are scattered in deep mountains, steep transport costs are a problem.
  Zhang Zhengfu, principal of Xinhai School in Zhaotong, drives once a week to the nearest town to bring eggs and milk for children, which are distributed to the local education bureau by suppliers.
  "The mountain path is narrow and rugged, so it is not possible to deliver the food every day," he said. "To prevent the eggs from going bad, we have to replace fresh eggs with marinated eggs."
  During this year's sessions of the National People's Congress and the Chinese People's Political Consultative Conference in March, CPPCC member Wang Ming pushed forward a proposal to promote food supply measures in Mashan, Guangxi.
  In brief, the measure combines efforts from the central government, local authorities, NGOs and students' parents—the central government would sponsor 3 yuan per day per person, and NGOs would put in 1 yuan. Local governments would buy necessary facilities in school kitchens, while parents took turns cooking, and each providing some grain and firewood.
  "If the parents take turns cooking for their own children, they will be more careful about safety than hired workers," said Chen Chunming, the nutrition expert.