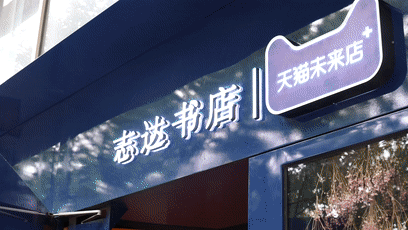 Swipe the QR code to initiate facial recognition system and open the door. /CGTN GIF
Chinese e-commerce giant Alibaba is launching a bookstore with its "unmanned" or "cashier-less" checkout system in Shanghai on April 23, to celebrate World Book Day. Facial recognition technology will be used at Zhida Bookstore to realize a future of "No Lines. No Checkouts".
A "cashier-less" bookstore is not a new concept in China. In the past, customers had to be their own cashier and swipe the bar code on the back cover of books and pay with an app. But this time, customers in Zhida Bookstore can grab the book and walk out of the door directly, while the facial recognition system identifies their face and completes the payment.
Why has Alibaba invested so much in a bookstore ? a "shrinking industry" as they are so called in the new media era? According to Alibaba, they are more focused on the potential big data related to the customers ? this includes opinions on the book, their music playlist, even what they buy elsewhere ? than merely saving a few minutes of the customers' time.
This is especially true for frequent visitors of Zhida Bookstore, who are mostly college students from nearby universities, as they are good indicators of the purchasing habits of the younger generation in big cities.