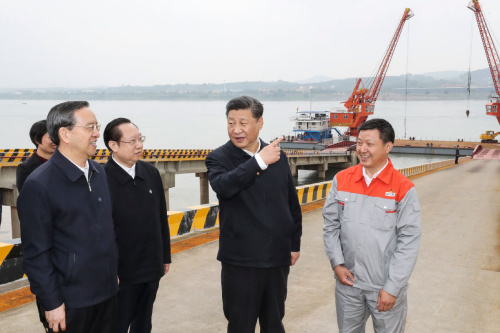 President Xi Jinping visits Yichang, Hubei province, on Tuesday. Xi inspected environmental restoration work along the Yangtze River and the development of the Yangtze River Economic Belt during his visit. (Photo/Xinhua)
He also encourages public to live by teachings of Communist Manifesto
China should promote its own development while continuing with and expanding its opening-up policy, Xi Jinping, general secretary of the Communist Party of China Central Committee, said.
The country should encourage the international community to jointly shoulder the duties that arise through economic globalization and work together to tackle the challenges that develop, Xi said on Monday, when he presided over a group study session of the Political Bureau of the CPC Central Committee.
The goal is to make economic globalization more open, inclusive, beneficial, balanced and a win-win proposition, Xi said. Further, the aim is to make sure various countries, social classes and groups of individuals share the opportunities introduced by globalization, Xi added.
The group study focused on the Communist Manifesto — a landmark theoretical classic published in 1848 to navigate the international communist movement — and its significance in this era. Xi emphasized the importance of studying it.
The advent of the manifesto marked a great moment in intellectual history, as it elaborates on the noble quality of what became Marxist political parties and it unveils the natural laws of how society develops, Xi said.
The purpose of reviewing the manifesto is to understand and grasp the power of the truth of Marxism and write a new chapter of socialism with Chinese characteristics in the new era, Xi said.
Effectively acting on the manifesto requires efforts to stay true to original aspirations, put people first and boost public welfare, Xi said.
The country should effectively tackle its unbalanced and insufficient development, boost the quality of its development and ensure outcomes better benefit the entire nation, Xi said.
New progress should be constantly made in areas such as kindergarten education, teaching, income, healthcare, senior care, housing and aids to those in urgent need, Xi said.
Speaking on the Party's buildup, Xi said efforts should never be phased out in terms of comprehensively boosting Party disciplines, and focus should be given to resolving the emerging issues in the process of advancing the Party's buildup.
The efforts of constantly updating Marxism in the new era should focus on the country's major existing issues, strategic issues concerning the big picture as well as those the public cares about in order to introduce new ideas, inspirations and methodologies for settling the issues, Xi said.
Party members, particularly senior Party officials, should effectively translate into actions the Marxist theoretical classics including the manifesto, and a group of professionals should be nurtured in the new era for compiling and translating the classics, Xi said.