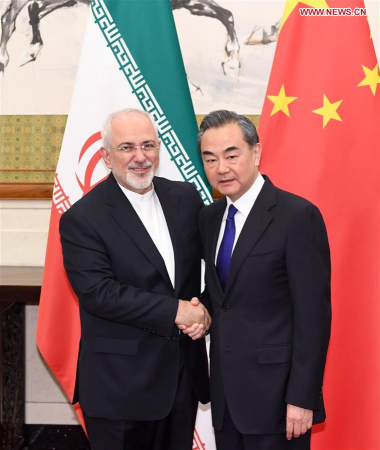 Chinese State Councilor and Foreign Minister Wang Yi (R) holds talks with Iranian Foreign Minister Mohammad Javad Zarif in Beijing, capital of China, May 13, 2018. (Xinhua/Shen Hong)
Iran's Foreign Minister Mohammad Javad Zarif said on Sunday he hopes to forge a "clear future design" for the nuclear deal facing collapse after Washington's withdrawal.
He made the call at the start of a diplomatic tour in Beijing, aimed at rescuing the agreement.
The visiting Iranian diplomat held talks with Chinese Foreign Minister Wang Yi.
"We hope that with this visit to China and other countries we will be able to construct a clear future design for the comprehensive agreement," Zarif said.
Wang said Iran is China's strategic partner and China is the first stop that Zarif is visiting on his diplomatic tour.
China understands Iran's circumstance and decisions it has taken, and China will safeguard Iran's national interests and actively contribute to regional peace, Wang stressed.
Wang urged all parties concerned to settle differences through dialogue. China firmly supports multilateralism and international agreements, and the Iran nuclear deal is one of the achievements of multilateral negotiation that contributes to Middle East peace and stability, the Chinese top diplomat said.
China made great efforts in forging and finally closing the deal in 2015, and it will continue to maintain the deal, he added.
The two diplomats also agreed to deepen strategic partnership and expand cooperation under the Belt and Road Initiative.
The Iranian foreign minister will later fly to Moscow and Brussels to consult the remaining signatories to the 2015 agreement denounced by US President Donald Trump.
His withdrawal from the deal last week has infuriated Washington's allies in Europe as well as China and Russia.
Read more:
China remains committed to Iran deal despite U.S. pullout
International reaction: U.S. withdrawal from Iran nuclear deal