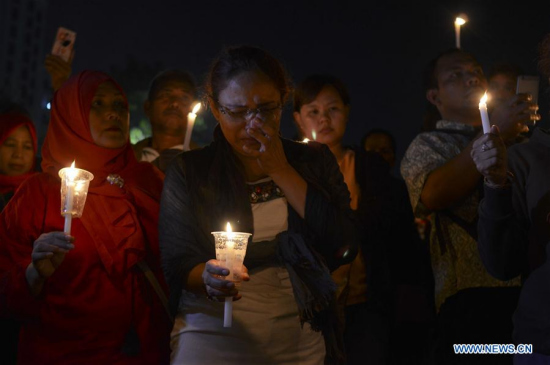 People gather during solidarity for victims after three churches bombing in Bandung, West Java, Indonesia, May 13, 2018. (Xinhua/Septianjar)
Indonesian President Joko Widodo on Sunday strongly condemned the deadly terrorist bombings in three Surabaya churches that have left 13 people dead and scores of others injured.
The condemnation was issued after his visit to the churches and a police hospital where the injured were receiving treatment. He also ordered police to root out the perpetrators' networks.
"I call all elements in the society to wage war against terrorism and radicalism that are against our religious and cultural values that respect deity and diversity values," the president said in the Bayangkara hospital in East Java capital of Surabaya on Sunday afternoon.
Head of Communications Division at National Police Headquarters Muhammad Iqbal said here that death toll from the bombings in the three Surabaya churches has risen to 13 as of the evening, with tens of others injured.
Meanwhile, speaking in Surabaya after accompanying the president to visit the bombing locations, Indonesia's Police Chief Tito Karnavian said perpetrators of the bombings came from one family.
He added that the family, consisting of father, mother, two sons and two daughters, was part of those who had returned from Syria.
Tito said the father, who goes by initial name of D, launched the bombing in a church in Arjuna Street. His wife, PK, and her two daughters carried out the bombing in a church located in Diponegoro Street, Tito added.
"The bombing in Flawless St. Mary Church was conducted by two perpetrators, who were the sons of D and PK," Tito said.
Tito said the family belonged to Jamaah Ansharut Daulah (JAD), a radical group which has stated its allegiance to the Islamic State (IS) group.
Tito said that police could not do much against the bomber family soon after they arrived in Indonesia from Syria as the existing terrorism law does not justify legal measurement against them.
"They went to Syria, joined the IS and returned to Indonesia. While they were with IS in Syria, they learned terror strategies, undergone military drills and how to assemble bombs," Tito said.
Tito urged immediate completion of the terrorism law revision whose discussions now stumbled in the parliament after being submitted in 2016.
"It has been more than a year now. We already knew their cells, but we cannot do anything against them," Tito said, referring to the period of stalemate of process in the parliament to enact the revised terrorism law.
Tito said that terrorists' sleeping cells in Indonesia now started to wake up following the recent riot incited by terrorist inmates in police's high security prison that killed five police and one terrorist.
In the latest development related to the awakening of terrorist sleeping cells, four terrorist suspects were killed in a gunfire exchange with police in West Java province regency of Cianjur on early Sunday.
Previously on Friday morning, a police officer was stabbed to death by a terrorist suspect caught surveying the police's mobile brigade headquarters. The suspect was shot to death by police shortly after the stabbing.
Earlier in the same day, a member of the terrorist sleeping cell was killed in a police ambush in Bekasi, West Java. Police arrested the remaining three of his accomplices, who were on their way to the police's mobile brigade headquarters to carry out attacks on the headquarters.