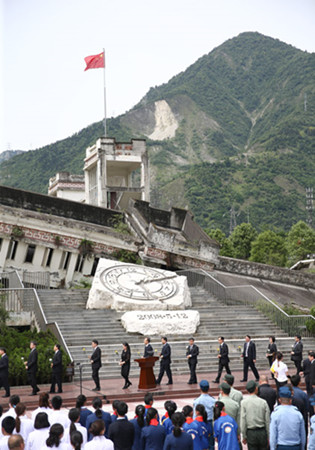 At the site of Xuankou Middle School, people gather on Saturday for a memorial service marking the 10th anniversary of the Wenchuan Earthquake in Sichuan province that killed nearly 70,000 people. [(Photo by ZOU HONG/CHINA DAILY)
China's earthquake rescue capability has increased by more than 200 percent in the past 10 years and an early earthquake warning system now covers most of the population in areas prone to temblors, and President Xi Jinping called on the nation this weekend to enhance disaster-prevention capabilities to guarantee people's safety and property.
Xi said that under the strong leadership of the Communist Party of China, the areas hit by the powerful quake had reached "remarkable achievements in restoration and reconstruction work, providing useful experience and inspiration for the international community in post-disaster reconstruction work".
His praise came in a letter to the International Conference for the Decade Memory of the Wenchuan Earthquake and the fourth International Conference on Continental Earthquakes, which opened in Chengdu, Sichuan province, on Saturday.
On May 12, 2008, the magnitude 8 quake hit Wenchuan, Sichuan province, killing nearly 70,000 people and leaving nearly 18,000 people missing and millions more homeless.
"There is no end to the human understanding of natural laws. Disaster prevention and reduction, and disaster relief are the eternal topics for people's survival and development," Xi said in the letter.
"Scientifically understanding the laws of disasters, effectively reducing disaster risks and achieving a harmonious coexistence between humans and nature requires the joint efforts of the international community.
"China will adhere to the people-centered development philosophy and pay attention to disaster prevention and relief work while treating prevention as a major task."
He called on the delegates to actively participate in the seminar, which is focused on the theme "Living with Seismic Risk", and to contribute to promoting international cooperation to reduce the risk of natural disasters and build a community with a shared future for mankind.
When the Wenchuan earthquake struck, China only had 4,200 earthquake rescuers with 27 official teams across the country, including a national team and 26 provincial teams.
By March, China established a four-level official rescue team system down to the county level, which has more than 250,000 members. There also are 11,000 civilian rescue teams with 694,000 volunteers, according to the Ministry of Emergency Management.
Chinese International Search and Rescue Team, the national earthquake rescue team with 480 members, has won international recognition and passed the International Search and Rescue Advisory Group's external classification.
"The team is capable of conducting rescues in nine different locations with complicated conditions simultaneously," the ministry said.
It also said China had established a world-leading digital seismological observation network that consists of more than 3,000 stations. And 13,000 shelters have been established across the country.
China began developing early earthquake warnings after the Wenchuan quake and became the third country with an early earthquake warning system after Japan and Mexico.
Relying on cellphones, TV, radio, government micro blogs and special receiving terminals, the early warning network, installed by the Institute of Care-Life in Chengdu, covers 660 million people in areas prone to earthquakes, accounting for 90 percent of the population in these areas, according to Wang Tun, head of the institute.
Since 2011, the system has successfully sent early warnings immediately after more than 40 destructive earthquakes, including two magnitude 7 earthquakes in Sichuan, one in Lushan county in 2013 and one in Jiuzhaigou county in 2017.
A real-time system providing warnings seconds after an earthquake occurs can save lives because the warnings are transmitted via radio, which move faster than seismic waves. Radio waves travel at 300,000 kilometers per second, while seismic waves travel at 3 to 6 km/s.
People who get warning messages may be able to escape before the seismic waves arrive, according to Chen Huizhong, a research fellow at the Institute of Geophysics, China Earthquake Administration.
Before the first anniversary of the magnitude 7.8 earthquake in Nepal that killed 8,699 people in 2015, Wang's institute also helped Nepal install the system, making the country the fourth in the world with an earthquake early warning system. The system covers one-third of Nepal's territory and half of its population.
On May 3, the Institute of Care-Life announced that it would provide early earthquake warnings through television to an additional 5 million people in 11 cities and counties in Sichuan. The move brought the number of people in the province covered by early earthquake warnings via TV to 5.3 million.
Wang Zhiguo, head of Beijing earthquake prediction research center, said, "China is the only country in the world with official research on earthquake prediction and also the only one that once successfully predicted an earthquake."
The country successfully predicted the magnitude 7.3 earthquake in Haicheng, Liaoning province, in 1975 and dozens of other earthquakes, he said.
He said that while China has made some achievements in conducting medium-and long-term prediction for earthquake, it has yet to be capable of predicting the exact time, location and magnitude of earthquakes, which is a global difficulty.