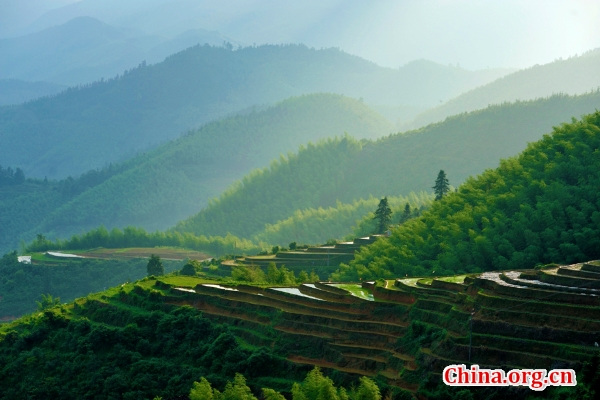 Photo shows the scenery of Shangbao Terrace at the Qiyunshan Mountain Natural Reserve in Chongyi, east China's Jiangxi Province. (Photo/China.org.cn)
The Hakka Terrace in Chongyi county, Jiangxi province, was inscribed by the Food and Agriculture Organization of the United Nations as a Globally Important Agricultural Heritage System on April 19. Three other Chinese agricultural systems were also named to the list.
The Chongyi Hakka Terrace won the title as part of a broader agricultural system - the Southern China's Mountain Rice Terrace System.
With the designation, China has 15 agricultural sites inscribed on the FAO's heritage list, ranking first in the world.
As early as 2014, the Ganzhou municipal government began the application process to become a FAO's heritage, and made efforts to promote the Hakka Terrace. After an expert group organized by the FAO conducted a three-day assessment mission in Chongyi county, Ganzhou city, in September 2017, the FAO sent a letter to the Chinese Ministry of Agriculture to confirm the selection of the Chongyi Hakka Terrace as a Globally Important Agricultural Heritage System on Feb. 5.
The formation of the Hakka Terrace dates back to the Southern Song Dynasty. Major expansion of the terrace system occurred at the end of the Ming Dynasty, and it was completed during the early Qing Dynasty. The conservation area of the Hakka Terrace in Chongyi,stretching 73 kilometers from the west to the east and 59 kilometers from the south to the north, covers an area of more than 40,000 mu (2,667 hectares).