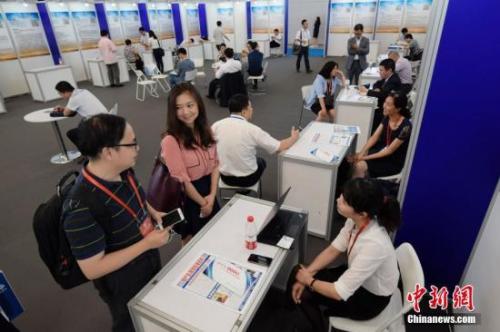 Students returned from overseas attend a job fair. (File photo/China News Service)
(ECNS) -- China will roll out further incentives to encourage students returned from overseas to start their own businesses and develop innovation, said Tang Tao, vice minister of Human Resources and Social Security.
At a press conference of the State Council on Monday, Tang said the ministry's measures are a response to the growing number of overseas returnees who have completed academic studies abroad.
The four-pronged approach by the ministry will look to further improve the policy system, either independently or in cooperation with other ministries, to address areas including social insurance, tax, household registrations for urban residency, intellectual property rights and children's education.
More support will be provided to Chinese graduates returning home from overseas who are keen to launch business start-ups, said Tang, and a panel of experts on entrepreneurship, established by the ministry, will play a more supportive role.
The ministry will continue to organize various services, such as project partnerships and academic exchanges, to make it easier for returnees to serve the country using their intelligence and business knowledge. In 2017, the ministry enabled 33,000 programs that sought to bridge talent and funding.
The ministry will also work to implement a decision made at a recent State Council executive meeting chaired by Premier Li Keqiang. More than 20 governmental agencies are to coordinate further in introducing favorable policies for innovation and entrepreneurship by returned overseas students.