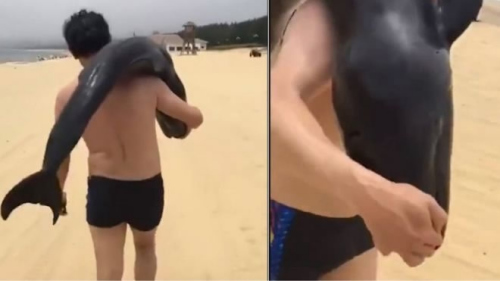 Screenshot of the Footage.
A Chinese man was arrested by police after being filmed carrying a dolphin on his shoulder at a beach, according to local media on Tuesday.
Authorities said they would take further action to deal with the suspect based on laws and regulations. The case is still under investigation.
The suspect has admitted that he took the dolphin away from the beach in south China's Guangdong Province on May 1.
Witnesses claimed the man was driving away with the dying animal from the beach of Hailing Island. There are scars on the allegedly 120-centimeter-long dolphin.
The animal was a Pseudorca crassidens, Yangtse Evening Post reported, citing local authorities. It belongs to the Class II protected species of China.
The dolphin is believed to be stranded. There are many reasons why dolphins and whales may beach themselves like injury and navigational errors, according to the New Zealand-based registered charity Project Jonah.
Dolphins have been reportedly rescued in March in Dajiaowan, the bay the beach closed to. The reputed "Eastern Hawaii" is a popular scenic spot in China.
Footage of the incident was posted to Chinese video sharing site Miaopai by Beijing's Mirror Evening News, receiving more than 630,000 views.
Users got furious after the video was reposted to Weibo, the Twitter-like social media platform of China.
"How can you endure to hurt such a cute dolphin baby? You deserved to be arrested," commented @Fenliyiweichongfeng.
"Please catch a shark next time since you are such a strong man," said @Quanbizhimei.