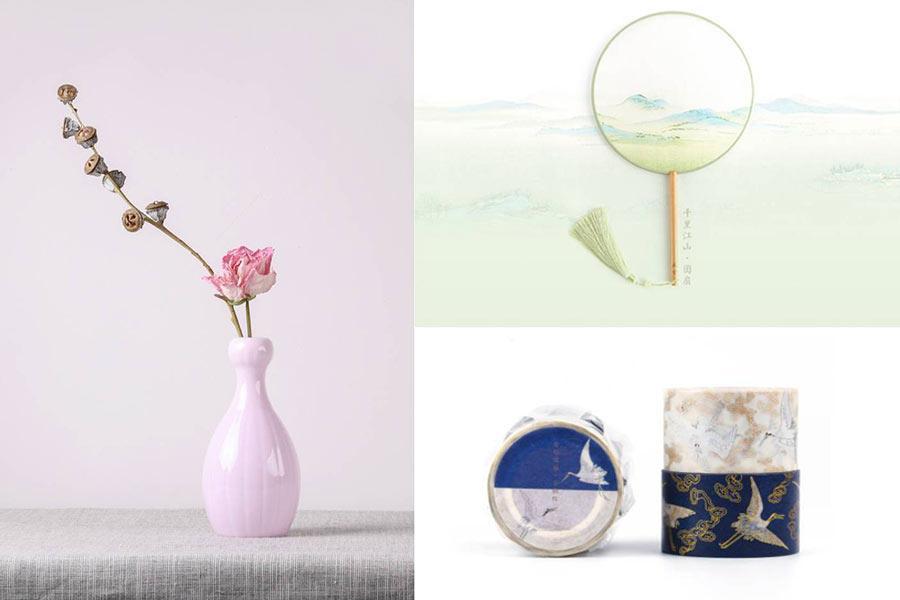 Posters for the event "China Week: Inheritance and Innovation" (Photo provided to Chinaculture.org) Among the items to be seen at "China Week: Inheritance and Innovation" are (clockwise from left) a light pink glazed vase, a circular fan themed on the ancient painting A Panorama of Rivers and Mountains and decorative tapes adorned with crane patterns from the Palace Museum. (Photo provided to Chinaculture.org)
Chinese designs themed on the 24 solar terms will be exhibited in Mexico from May 17 to June 27. Also, exchange activities between institutions and enterprises in the fields of cultural creative industry or design from Beijing and Mexico will be conducted during the week.
China has 35 Chinese cultural centers worldwide, and the number will total 50 in 2020. Chinese cultural centers abroad have been taking part in China Cultural Week event since 2016. This year the week aims to provide a platform for the overseas development of Chinese cultural enterprises and a showcase of Chinese cultural creative products.
The Exhibition of Creative Products Inherited from the Palace Museum, covering 12 categories of painting and calligraphy, jewelry, garments, time pieces and stationery, has prepared 169 sets of cultural creative products for foreign audiences. The exhibit will go to six countries, including Singapore, Australia, Thailand, South Korea, Benin and Belgium, and three experts from the Palace Museum will hold lectures during the exhibitions.
The preview exhibition of Chinese stamp culture and stamp-themed cultural products, and the Silk Road Memory--- NICE Choice Cultural Creative Exhibition will be held at the NICE gallery in Beijing from Tuesday to May 27.
Prev Button
Next Button